PM slams Pakistan for propaganda about '71 genocide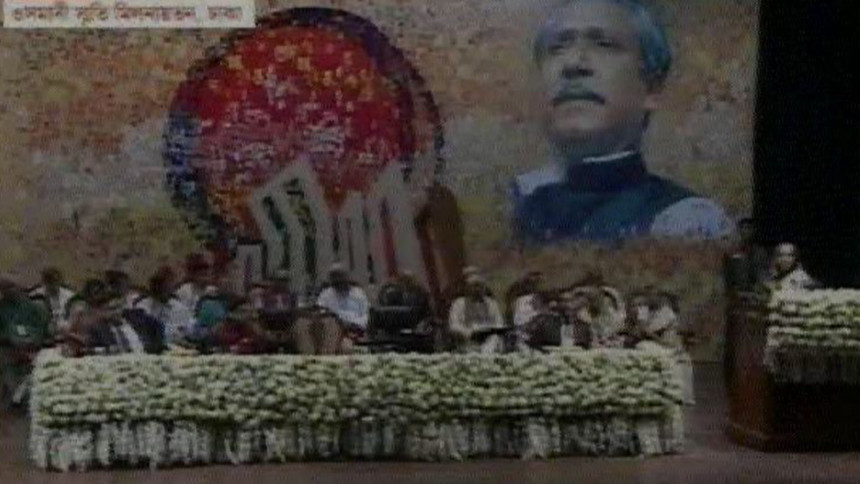 Prime Minister Sheikh Hasina today came down hard on Pakistan for spreading false and fabricated information regarding genocide carried out by the Pakistan occupation force during the Liberation War in 1971.
"Recently it has been seen that the Pakistani conspiracy against Bangladesh is going on. They have published a book where they put caption under the pictures of genocide saying that freedom fighters carried out those. This propaganda is not acceptable to anyone." she said.
The Prime Minister was addressing a function marking the distribution of the Ekushey Padak,2017 organised by Ministry of Cultural Affairs at Osmani Memorial Auditorium.
A book titled 'Creation of Bangladesh: Myths Exploded' authored by Junaid Ahmad, published in Pakistan has been handed over to Bangladesh High Commission in Pakistan where some false and fabricated information regarding genocide, number of martyrs, torture of women by the Pakistani army were mentioned.
Hasina reiterated her vow to declare March 25 as the Genocide Day in the country and pursue to make the same internationally as occupational Pakistani army on that day in 1971 carried out one of the worst genocides in the history against unarmed people of Bangladesh.
"I think we will have to take March 25 as the Genocide Day and I also think that we will have to try to get international recognition," she said.
The Prime Minister also said that BNP leader Khaleda Zia in the recent past expressed her doubt that during the Liberation War three million people were not killed by the Pakistani force. "This number is not right," she quoted Khaleda Zia.
"What can be more shameful than this, I don't know whether there is any link between the propaganda of Pakistan and the statement of Khaleda Zia," she added.
The Prime Minister said that there is no doubt about the genocide during the Liberation and each family of the country is the victim of the genocide and everybody knows it very well that it was carried out by the Pakistani force.
"Raising question about the genocide and number of the martyrs is very much disgraceful," she said.
Minister for Cultural Affairs Asaduzzaman Noor presided over the function while Cabinet Secretary Shafiul Alam conducted the programme and read out citations of the awardees. Cultural Affairs acting Secretary Ibrahim Hossain Khan gave the welcome address.