When the quality is right
Shop with no name proudly selling butter for three generations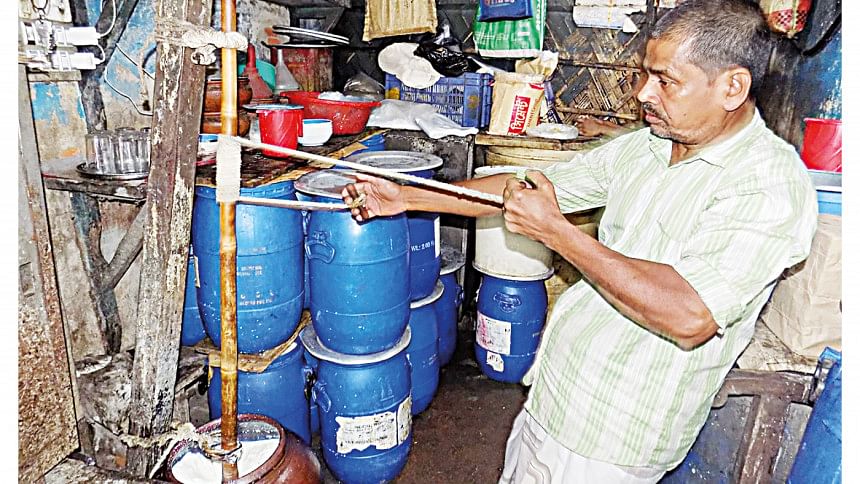 For a small shop without a signboard or even a name, the popularity of this butter store is unparalleled among the residents of the port city. For 80 long years, this shop with no name has ruled the hearts of the city, solely with the quality of its produce.
Located at Enayet Bazar, the shop is owned by Sanjay Das. "Our business is three generations old," he told this correspondent.
"My grandfather Khetro Mohon Das started selling butter in early 1942. After he passed away in 1996, my father Madon Mohon Das took over the shop and managed to keep the goodwill of the business intact," said Sanjay.
Md Mahiuddin (50), a resident of the city's Bayzid area, agrees. A regular at the shop, he said he still can't resist its allure after many years of visit. "For around 25 years, I have bought my curd and butter from here. They always ensure the quality is premium. Even though the times have changed and everything around it has changed, the quality of their produce remains unparalleled."
Owner Sanjay Das had acquired a master's degree in chemistry back in the day. Right after finishing his studies, he was even offered two government jobs. However, he refused them to run the family business. "I chose to run the business to keep my father's memories alive," said Sanjay.
Madhab Basu, a worker of the shop since 1997, mentioned that they produce the butter in the old and traditional way, picking it manually by moving bamboo sticks.
"This involves a lot of hardship, but when it comes to ensuring quality, a little hard work is not going to stop us," said Sanjay.
"And once you have the quality control down, the rest of it comes along easily. This is why people from all over the city flock to Enayet Bazar for us, even though we don't even have a signboard or a name," he said, with pride.