'Rain or shine, our woes linger on'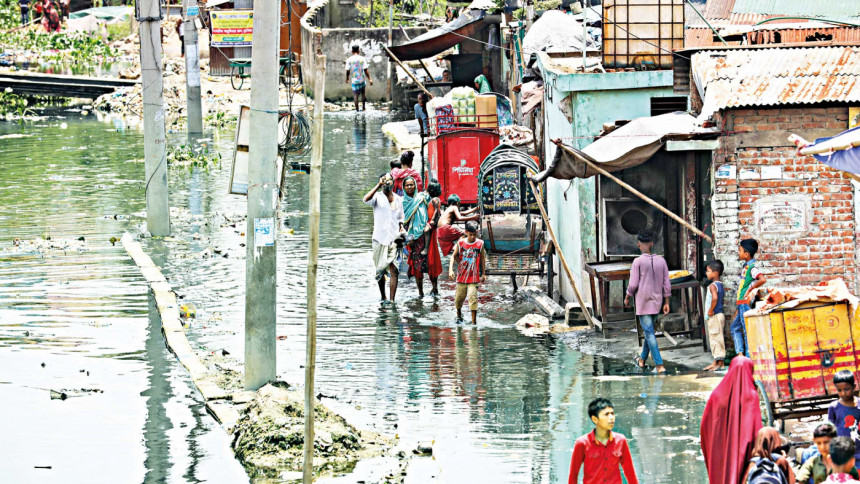 Residents of West Bakalia (ward 17) in the port city are the worst sufferers of waterlogging during monsoon every year.
Not just the rainy season, many living beside different lanes and by-lanes in the ward suffer due to waterlogging even in the dry season.
Take the instance of Ujir Ali Shah by-lane in Rahattarpool area. Several hundred families living in the area seemed quite happy when this correspondent visited the area last week, as they said water just receded from their waterlogged road and they could move freely.
"Filthy water overflowing from the drain submerge the road now and then," said Sheikh Md Ledu, a local. "Rain or shine, the alley remains underwater."
Many do not want to live in this area, and some have already given their notice to leave the neighbourhood, said Ledu, owner of a four-storey building in the area.
Arif Ahmed, another resident, echoed him.
"The ground floor of many buildings on the lane went underwater during the rain, influenced by cyclone Ashani, last week," said Tripti Dutta, a local. "Many people, especially the children, have been suffering from diarrhoea and enteric diseases since then."
"My two-year-old daughter has been suffering from diarrhoea for five days," she said.
Pushpal Barua, another resident, said he has been suffering from skin diseases as he had to walk through the filthy water quite often. "We have informed the authorities, but the situation has not changed."
Prof Dr Serajul Islam, former head of dermatology at Chattogram Medical College Hospital, said due to the filthy water, people are at risk of suffering from skin diseases including itching, eczema and scabies.
Contacted, Shahidul Alam, councillor of ward-17, said his ward is in one of the low-lying areas, where waterlogging is a common scenario during monsoon.
Asked about the sufferings of residents in Ujir Ali Shah by-lane, Shahidul said it all started just a year ago when Chattogram Development Authority (CDA) started making temporary embankments in canals as part of implementing a mega project to address the waterlogging issue.
"As temporary embankments have been made in canals, drain water cannot recede rapidly, and so water overflows from the drains," he said. "Not only the residents of Ujir Ali Shah by-lane but people of many other areas have also been suffering for the same reason."
He said he will speak to CDA about the matter.
CDA chief engineer Kazi Hasan Bin Shams could not be contacted for comments, despite repeated attempts.