Blue Beetle packs a punch but lacks the knock-out blow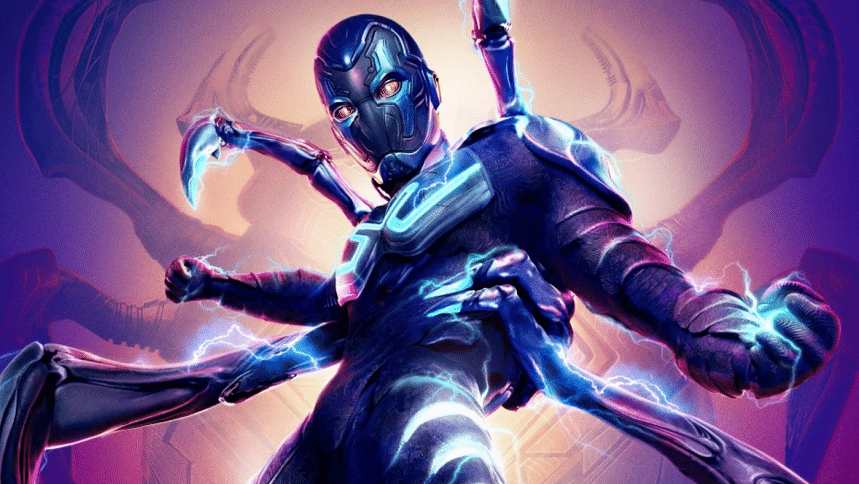 DC's Blue Beetle is the seventh superhero film to come out this year, at a time when the superhero genre fatigue has well begun to affect audiences. However, Blue Beetle treads somewhere between subverting and adhering to genre tropes, and the end result is a film which seems familiar yet feels fresh at the same time. 
The film follows Jaime Reyes, a 22-year-old Law graduate whose attempts at finding a job to aid his financially struggling family lead him to encounter a sentient alien weapon, known as the Scarab, which fuses with him and grants him the ability to conjure an armoured suit at will. The overarching plot is the standard superhero fare – evil cooperation tries to "change the world" through experimentation and exploitation, good guys take them down, and so on. Despite the nature of the story, where the common superhero tropes are prominent, the film has some great writing which elevates it. The titular character, played by Xolo Maridueña, is incredibly likeable and relatable. Jaime is comparable to the MCU's Spider-Man, but I would argue that this movie portrays the young hero archetype in a much more compelling way than Tom Holland's web-slinger. Jaime has a more diverse personality and his relationship with his family and his Hispanic heritage adds a layer of authenticity to his character.
I initially mentioned that this film subverts superhero tropes while also sticking to some of them. The subversion comes in the implementation of Jaime's family. Most superhero stories barely let heroes have a full family, usually, it is just one parent or guardian or no family at all. On the other hand, the Reyes family consists of Jaime's parents, his grandmother, his sister, and his uncle, who all add much-needed realism and heart rarely seen in other superhero stories. The only other movie which was able to capture such an element was perhaps the first Shazam! film, but I believe Blue Beetle does it much better. Jaime does not try to hide his abilities from his family, rather they are present when he gets the powers in the first place and actively help him in his journey. 
Without spoiling anything, some aspects of the film do delve into the usual superhero storytelling niches, especially in the third act which felt disappointing. The romance subplot that Jaime has with Jenny Kord (daughter of the previous Blue Beetle) is very underdeveloped, as the two characters were not given enough time and chemistry to make them a relatable or compelling couple. The primary antagonist, Victoria Kord, feels like another cartoonishly bad "evil CEO" villain who has little to no character depth other than the fact that she is evil. The secondary antagonist, Carapax, is slightly better written but still is like another generic bad guy. Another flaw of the movie stems from the failings of most other modern superhero movies in addressing the "no killing" rule. While it is established that Blue Beetle does not kill his enemies, in the third act however, his family members do kill a lot of henchmen in order to help him and that blatantly contradicts the ideology they tried to establish. 
Due to the aforementioned problem with superhero fatigue and the fact that the DC movie universe is about to be rebooted, recent DC films have performed poorly at the box office as audience interest has faded. However, it was recently announced that Blue Beetle would be integrated into the new universe and does not have any ties to previous movies, which is evident. As things now stand, Blue Beetle feels like a standalone movie. Audiences should thus be incentivised to give this movie a proper shot, both by these factors and its own merit. 
Overall, Blue Beetle is a thoroughly enjoyable movie which is bound to be a good time. It has great writing, a likeable cast of characters, solid visuals, and sound design. It does not reinvent the wheel by any means, but it takes the familiar and adds new layers to it which makes it one of the best superhero films of this year.