Zero-calorie Pepsi Black hits market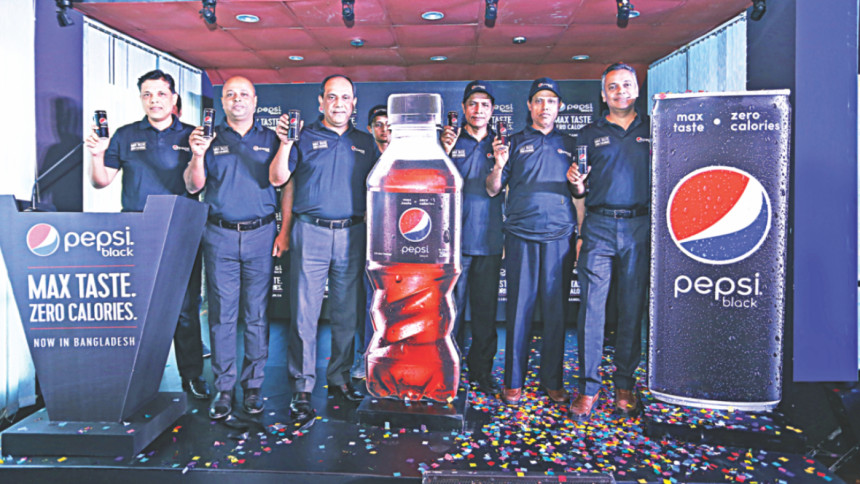 Transcom Beverages has rolled out Pepsi Black, a zero-calorie carbonated beverage, in the local market, tapping into the growing consumer preference towards less sugary drinks.
The cola will be available in two forms: 250ml PET bottles priced at Tk 18 each and cans at Tk 40 each.
The maximum taste of the cola will remain unchanged in the zero calorie Pepsi Black, said Transcom Beverages, the sole franchisee of PepsiCo in Bangladesh, in a statement yesterday.
The zero-calorie cola has been introduced as part of PepsiCo's plan to intensify focus on health and nutrition.
The product launch will be supported through integrated marketing including print, radio, digital, social media and trade communication.
Pepsi Black with maximum taste and zero calorie will undoubtedly become an instant hit with the crowd like every other PepsiCo product, said Khurshid Irfan Chowdhury, managing director and chief executive of Transcom Beverages.
"We are confident Pepsi Black will deliver a great taste that cola fans in Bangladesh will love. We also hope that consumers who love the taste of cola but without calorie will try and surely enjoy it," said Arif Hossain, head of marketing of Transcom Beverages.
Transcom Beverages won the title of "Global Bottler of the Year" in 2016 and 2009, the most prestigious award from PepsiCo.
The company also won "Bottler of the Year" award in the PepsiCo India Region for six years.