Trade deficit hits six-year high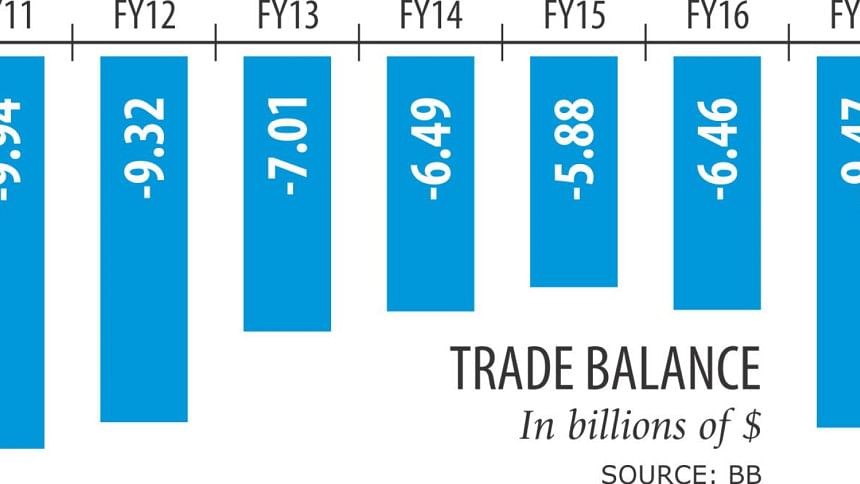 Trade deficit hit $9.47 billion in fiscal 2016-17 -- the highest in six years -- with the central bank projecting it to cross the $11 billion mark this year.
Since fiscal 2012-13, trade deficit has been hovering around $6 billion, but in fiscal 2016-17, it made a 47 percent year-on-year jump on the back of a wide mismatch between export and import growth.
Last fiscal year, exports grew only 1.73 percent and imports 9 percent, according to data from the central bank.
With the widening trade deficit and declining remittance, the current account balance dipped into the negative territory. The deficit reached $1.48 billion last fiscal year in contrast to a surplus of $4.26 billion a year earlier.
The central bank's latest monetary policy statement has forecasted that the deficit may nearly double to $2.72 billion in fiscal 2017-18 as imports continue to surge.
The current account balance set foot in the negative territory for the first time in four years in the first quarter of fiscal 2016-17, when the deficit stood at $504 million. It has been expanding since then. The last time the current account was in the deficit was way back in fiscal 2011-12.
The overall surplus shrank to $3.17 billion last fiscal year, which was $5.03 billion a year earlier.
"Foreign currency reserves are still growing and now stand at a satisfactory level," said a central bank official.
On August 16, reserves were $33.24 billion, up from $30.52 billion a year earlier.
"The rising trade deficit could put some pressure on exchange rates," he said, adding that the deficit has already affected the exchange rate as the taka has depreciated against the US dollar. The exchange rate was Tk 80.7 per dollar on August 16, up from Tk 78.4 a year earlier, according to the central bank.