Trade with Canada to cross $3b by 2021: Tofail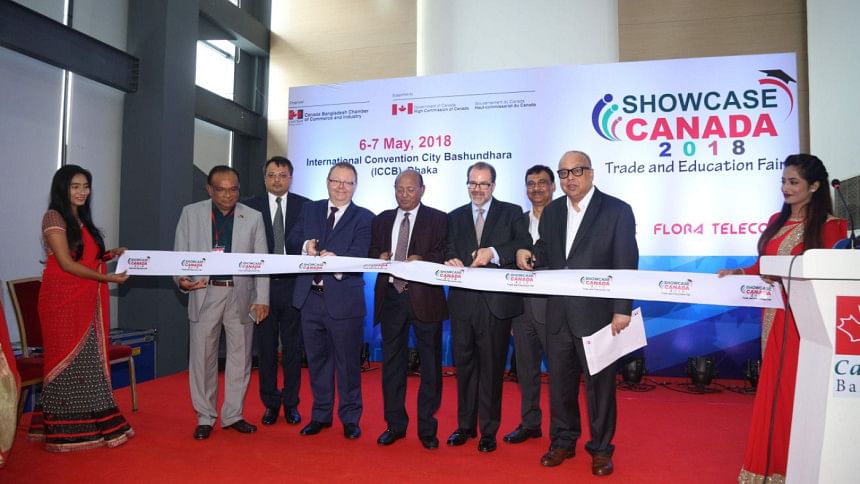 Bilateral trade with Canada will cross $3 billion by the end of 2021, driven by rising demand for Bangladeshi garment items in the North American nation, said Commerce Minister Tofail Ahmed yesterday.
In 2017, the amount stood at $1.7 billion.
At present, the balance of trade between the two countries is heavily tilted towards Bangladesh as Canada is one of the largest export destinations for Bangladesh's apparel items.
Furthermore, the North American nation allows duty-free access to goods from Bangladesh.
Of the total exports to Canada, more than 95 percent are clothing items.
But to lower the dependency on garment, the government has taken some special measures to boost the shipment of leather goods, jute products, frozen foods and software products to Canada, Ahmed said.
The minister's comments came at the inauguration of the two-day trade and education fair titled 'Showcase Canada 2018', held at the International Convention City, Bashundhara in Dhaka.
The event was organised by the Canadian Chamber of Commerce and Industry (CanCham), Bangladesh in collaboration with the Canadian High Commission in Bangladesh.
A total of 33 companies and educational institutions from both Bangladesh and Canada are showcasing their products and services at the fair, which ends today.
The minister also invited Canadian businessmen to invest in any of the government's 100 special economic zones that are under construction now.
Canada has been a development partner of Bangladesh for the last 45 years, providing CAD 4 billion worth of assistance, said David Hartman, director general of Global Affairs Canada.
"Canada recognises the essential role of the private sector, and that is why at this stage in our relationship, Canada's core goal in Bangladesh is to build the underlying conditions necessary for the advancement of prosperity in both our countries." Bangladesh is one of the only 25 nations for which the Trade Facilitation Office Canada has been working to strengthen its export capacity.
Canada exports goods such as wheat, lentils, potash fertiliser, oilseeds, hot and cold rolled steel, telecommunications and energy equipment to Bangladesh.
In addition, Canada is a major supplier of fixed wing aircrafts and helicopter in this market, Hartman said.
"Besides trade, Canada wants to collaborate in areas such as airline safety and aircraft certification and ensure that our countries have safe, efficient and competitive aviation industries," he added.
Considering the growing two-way trade and Canadian investment in Bangladesh, the government should form a 'blue ribbon panel', a special body for facilitating investment from the North American nation, said Masud Rahman, CanCham president.
The signing of a bilateral investment treaty between Bangladesh and Canada will help attract more foreign direct investment from the North American nation, he added.