Tourism thrives on buoyant economy
Global operators target Bangladeshi tourists; three-day travel mart begins in Dhaka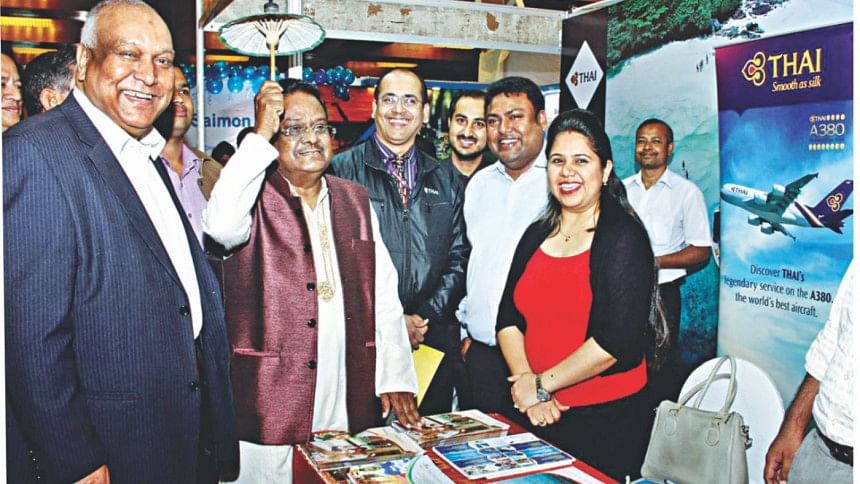 Bangladeshi nationals are progressively becoming a target for the tourism board of many countries due to their rise in purchasing power, brought about by the country's solid economic growth for over a decade.
It was evident at the three-day US-Bangla Airlines Dhaka Travel Mart 2018 that began yesterday at the capital's Pan Pacific Sonargaon hotel.
Nepal, Sri Lanka, Malaysia, Thailand, Singapore, China, the United Arab Emirates and many other countries are showcasing their attractions before prospective Bangladeshi tourists.
"Bangladeshi tourists are one of our prime targets," said Sudhan Subedi, senior officer of Nepal Tourism Board.
Subedi brought seven tour operators with him.
"Though there was an unfortunate plane crash at Kathmandu this month, this would not put off Bangladeshis from visiting the country," he added.
Nepal gets 25,000 tourists from Bangladesh in a year on average.
Sri Lanka received 1,600 Bangladeshis each month on average in 2017, according to Shermal Perera, country manager of Sri Lankan Airlines in Bangladesh.
"And the number is growing in double digits," he added. Sri Lanka has eight stalls at the fair.
The UAE, which has recently lifted the visa ban for Bangladeshi tourists after more than 5 years, has come up with offers through its airlines at the fair.
For example, Air Arabia, a UAE-based low-cost airline, is offering a three-night package for Dubai for Tk 49,999, including return ticket, hotel accommodation and visa fee.
"People's disposable income has increased significantly and that's why they are travelling more than ever before," said Kazi Wahidul Alam, chairman of the event organising committee.
More than 20 lakh Bangladeshis visit different countries every year and the number is growing steadily, he said.
The most visited country by Bangladeshis is India; coincidentally, India gets the highest number of foreign tourists from Bangladesh.
About 21 lakh Bangladeshis visited the neighbouring country last year, up about 53 percent year-on-year.
Thailand, Singapore and Malaysia each get about one lakh Bangladeshi visitors a year.
Maldives and Indonesia get about 25,000 Bangladeshis visitors every year, according to the representatives of the country's tourism boards.
The airlines too are offering lucrative deals to attract Bangladeshi tourists.
The correspondent found a long queue in front of the stall of Biman Bangladesh Airlines: the state-owned carrier is providing 20 percent discount to its six international destinations.
Taking up the offer was Monirul Bashar, a private service holder, who never ventured outside of Bangladesh. He purchased two tickets from Biman to fly to Malaysia and Thailand.
Shakil Meraj, general manager for public relations at Biman, said they have targeted to make sales of about Tk 3 crore at the fair. US-Bangla Airlines is offering 10 to 25 percent discount and Regent Airways 12 percent discount to all of its destinations.
Travel agents and tour operators are also selling different products and services targeting the Eid vacation.
Mohammad Imrul Rashed, a sales executive of Amazing Tours BD, said they are offering huge discounts to different destinations but they found people to be most interested in visiting Dubai.
Within few hours of the fair's inauguration, the tour operator sold four packages worth Tk 1.15 lakh to Dubai.
Explore Holidays is promoting tour packages to China, said Domenic Gomes Sumon, its chief operating officer.
A local company, goBDgo.com, is promoting cruises from Singapore, said Sayeda Rezwana, an assistant manager of the operator.
The previous edition of the fair saw tour operators, hotels and airlines logging in sales amounting to more than Tk 3.5 crore, according to organisers. This year, they are expecting much higher numbers.
At the fair, 48 organisations from different countries and host Bangladesh are showcasing their products and services in five pavilions and 60 booths.
This year, the organisers are also focusing on river tourism and will organise a seminar on the last day of the fair.
Earlier in the morning, Civil Aviation and Tourism Minister AKM Shahjahan Kamal inaugurated the fair.