Robi logs Tk 280cr losses despite rise in subscribers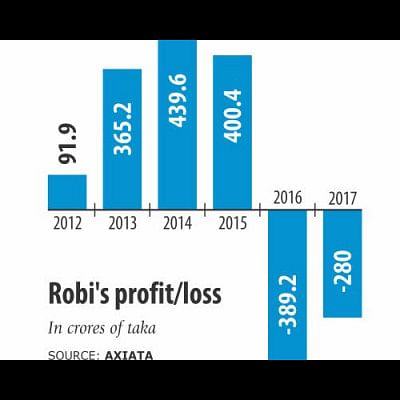 Robi, Bangladesh's second largest mobile operator, failed to register profit for the second straight year, counting net losses of Tk 280 crore in 2017 despite favourable growth in subscriber base and revenue.
The mobile operator had incurred losses of Tk 389 crore in 2016. 
Robi logged in Tk 6,830 crore as revenue for 2017, up 29.7 percent from a year earlier, driven by its merger with Airtel. Its subscriber base expanded 26.8 percent to hit 4.29 crore at the end of last year, which is 29.6 percent of the market, according to the operator.
"Despite encouraging growth in terms of both subscriber and revenue, Robi was unable to register any profit in 2017," said the operator in a statement yesterday.
The operator went on to blame the intense competition around pricing for both data and voice and the "exorbitantly" high taxation regime for its dismal performance in 2017.
"With 4G and mobile number portability coming up, we are confident that we can provide significantly better customer experience in terms of data speed and stronger network to our subscribers," said Mahtab Uddin Ahmed, managing director and chief executive of Robi.
Robi continued investing aggressively to ensure 4G readiness and fast-track its 3.5G network expansion aiming to improve network quality and enable better customer experience both in voice and data services, according to the statement.