No more barriers to eSIM launch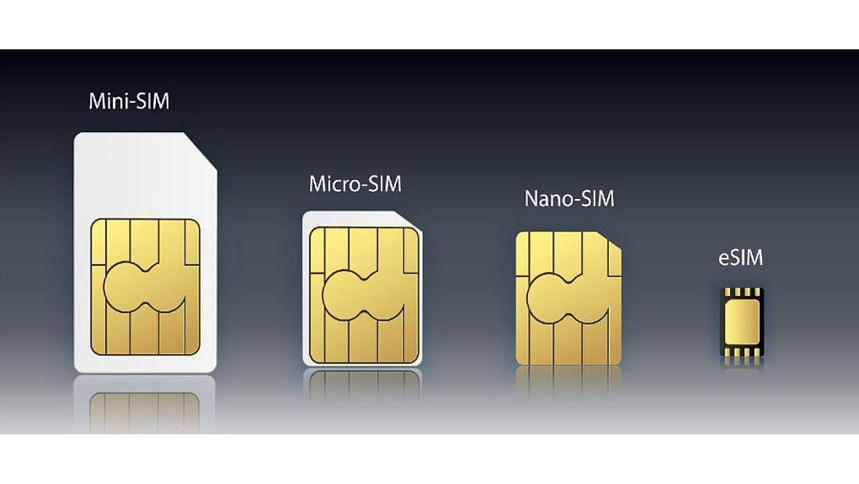 GP said eSIM would be available at selected Grameenphone centres from today
The barrier to launching eSIM services has been finally removed as the National Board of Revenue (NRB) has set the value-added tax for the sale of digital subscriber identity modules by the mobile phone operators in Bangladesh.
Tk 200 has to be paid as VAT for each eSIM, similar to that for the regular SIM card, according to a letter from the NBR to the telecom regulator and operators on April 21.
This means Grameenphone will now be able to roll out eSIMs to become the first operator in Bangladesh to make digital SIMs available.
The largest mobile phone operator had announced to launch eSIM on March 7.
However, the Bangladesh Telecommunication Regulatory Commission (BTRC) put a bar on the rollout citing concerns over a lack of clarity centring revenue collection from the issuance of digital SIMs.
On top of that, the BTRC said Grameenphone had not taken prior permission.
"We have served a show-cause notice on GP. After getting the reply, we will consider it," BTRC Chairman Shyam Sunder Sikder yesterday.
"We have no objection to allowing the launch of such a service in principle. But, without taking any permission, no operator can do it. That is why we have issued them a show-cause notice."
But sources at the operator said it had already taken the commission's permission to roll out the service.
In a press release yesterday, GP said eSIM would be available at selected Grameenphone centres from today.
"We are happy and inspired to bring this advanced and climate-friendly technology to Bangladesh," said Yasir Azman, chief executive officer of Grameenphone.
Customers can get their eSIM connection from GP House Experience Center, GPC Lounge Gulshan, GPC Lounge GEC in Chattogram, GP online shop, Motijheel GPC, Farmgate GPC, Bashundhara city GPC, Dhaka Airport GPC, Uttara Jasimuddin road GPC, Simanto Square GPC, Dhanmondi, and Sylhet Korimullah Market GPC. 
For a new connection, the price is Tk 200 and for replacement from physical SIM to eSIM and eSIM to eSIM, the price is Tk 99, the operator said.
On April 7, the BTRC said upon receiving the NBR's green-light, GP could launch the service.
Grameenphone has about 8.3 crore mobile subscribers in a market of 18 crore, according to the BTRC.
The eSIM, or embedded SIM, is a SIM card that can be electronically programmed into a mobile phone without the need for manual insertion.
It works just like a regular SIM but does not require a physical card, and only works on devices with pre-installed eSIM support.
Many countries, including some of the neighbouring countries, have already launched the service.