eSIM in Bangladesh: Here's everything you need to know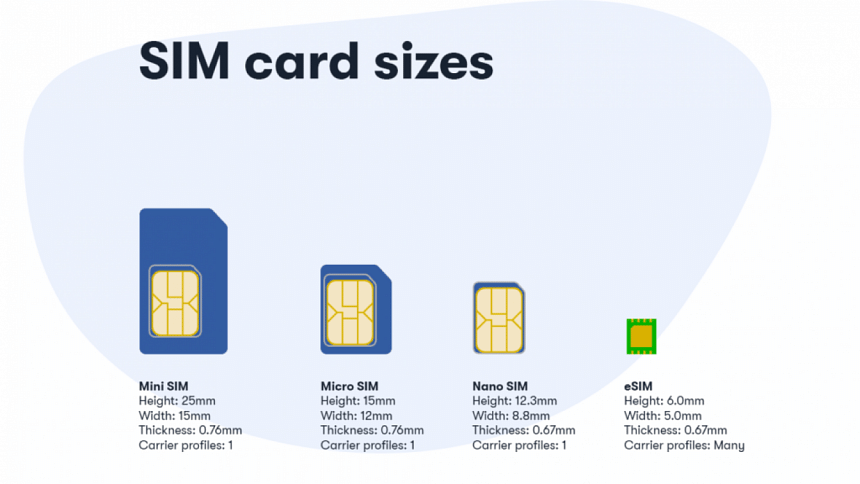 Recently, eSIMs have been making waves as the next step in mobile technology. What is it, and how can we use it in Bangladesh? Below are all the important details you need to know about eSIM in Bangladesh.
What is eSIM?
Embedded-SIM, or eSIM, is a SIM card that can be electronically programmed into a mobile phone without the need for manual insertion. It works just like a regular SIM but does not require a physical card, and only works on devices with pre-installed eSIM support.
Can you use eSIM in Bangladesh?
Grameenphone has officially launched eSIM service in Bangladesh on 1 March 2022.
You can also use eSIM in Bangladesh using international operators. There are data packages and plans available on the internet which will allow Bangladeshis to gain access to eSIM functionality. 
If I use eSIM, will a new mobile number be assigned to me?
That depends solely on the operator you plan on using. Some international operators will assign a brand new phone number to be used with the eSIM, but some will not. 
Can I make calls using eSIM?
If you use an international operator to use eSIM in Bangladesh, you can only use mobile data. 
Is eSIM service costly?
Because eSIM uses international roaming services, which can be through any Bangladeshi operator, the cost for the mobile data will be quite costly. The charge incurs from both the Bangladeshi operator as well as the international operator providing the eSIM support, hence the added cost. 
Can my phone run eSIM?
Very few devices currently have eSIM support, and they need to be carrier-enabled for the eSIM to work. 
Apple devices such as iPhone XR, iPhone 11 Pro, iPhone 12 and 13 have built-in eSIM support. Versions of Samsung Galaxy S20, S21, Note 20 and Galaxy Fold, as well as Google Pixel 3, 3a, 4, 4a, 5, 5a and 6 Pro also support eSIM.