Last-minute rush for SIM re-registration
Telecom operators seek more time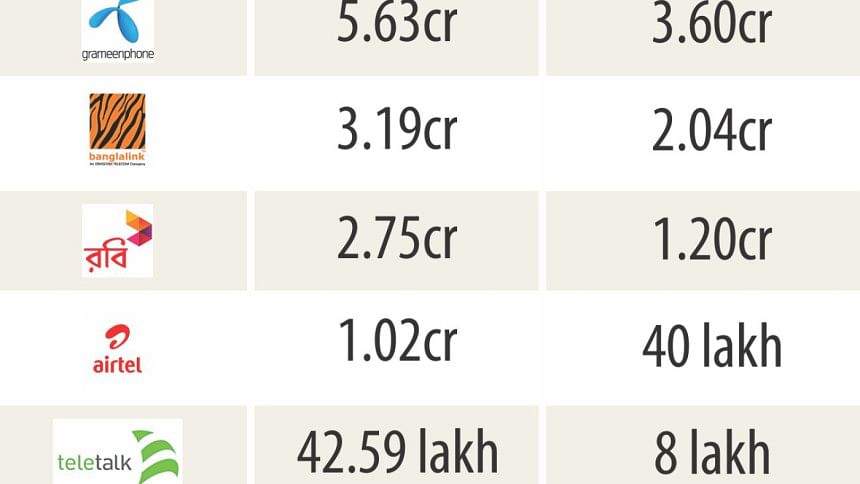 All telecom operators' registration points are facing a huge influx of subscribers as only three days remain to complete their SIMs re-registration.
As of April 24, 7.33 crore SIMs have been re-registered, with fingerprints matching the national database, while there are 13.08 crore active SIMs in the market at present, according to Bangladesh Telecommunication Regulatory Commission.
As almost half the total number of SIMs were not registered and there was only one week to the cut-off time, the top telecom operators sought more time from the authorities.
Grameenphone has asked for two more months, extending the deadline to June 30, said a senior official of the BTRC. The current deadline for SIM re-registration, which began on December 16 last year, is April 30.
Meanwhile, Banglalink has asked for one extra month to complete the process.
Operators sent letters to the regulator seeking more time, said TIM Nurul Kabir, secretary general of Association of Mobile Telecom Operators of Bangladesh.
Users are now willing to register their SIMs but there is little time to do so. So the government or regulator should review the situation and extend the time logically, said operators.
The Telecom Division plans to issue a notice this month extending the time for SIM re-registration, an official said.
Operators had earlier seen a slowdown in registration as there was a writ petition against the process. They also mentioned extreme summer heat and floods in the Sylhet region as reasons for being unable to complete it.
However, Ekram Kabir, vice president for communications and corporate responsibility at Robi, said they did not send any such application to the regulator.
Robi has not re-registered even half of its active SIMs until April 24, data from the BTRC shows.
A senior official of Banglalink said they have registered more than 5.5 lakh SIMs matching with biometric fingerprints a day for the last two weeks. The operator got 2.04 crore SIMs re-registered as of April 24, he added.
Grameenphone completed 3.6 crore re-registrations by April 24. The market leaders has a total of 5.63 crore active SIMs now.