Slovenia to help Bangladesh in honey cultivation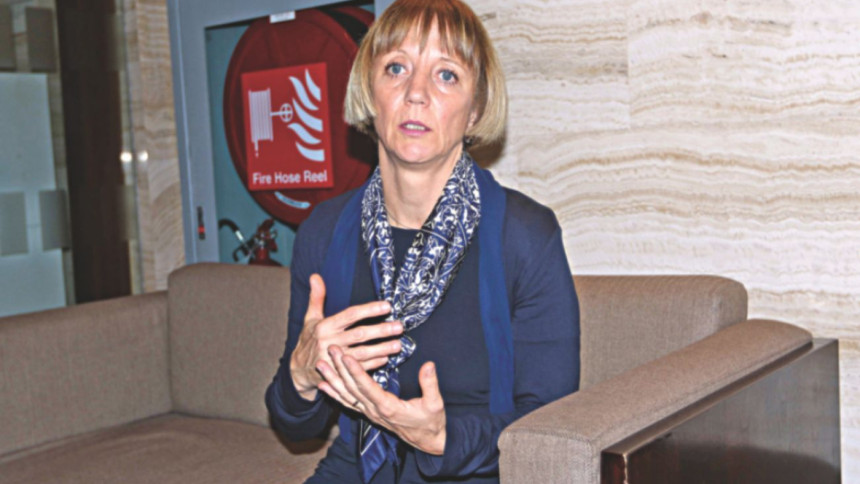 Bangladesh can become a key player in honey cultivation and create more employment for people in rural areas, especially for women.
In this respect, Slovenia, a nation of beekeepers, wants to share skills and knowledge on beekeeping with the people of Bangladesh.
"On the other hand, you could substantially improve yields in agriculture because of better pollination," said Tanja Strniša, state secretary of the agriculture, forestry and food ministry of Slovenia, in an interview with The Daily Star during her visit to Dhaka last week.
This was the first visit to Bangladesh by any Slovenian leader after the independence of the nation in 1991. Bangladesh's State Minister for Foreign Affairs Md Shahriar Alam visited Slovenia in June.
The purpose of her visit is to deepen cooperation between the two countries, said Strniša.
"We have a lot of potential for cooperation in trade," she said, citing that the value of bilateral trade was only 32 million euros in 2015. Of the amount, Bangladesh exported goods worth 28 million euros, mainly clothes. The rest are Slovenian exports to Bangladesh, she said.
"The two-way trade is growing. But the potential is bigger."
During her visit, Strniša met Agriculture Minister Matia Chowdhury, Commerce Minister Tofail Ahmed and Industries Minister Amir Hossain Amu and discussed prospects of ago-based projects.
With a population of two million, Slovenia has a century-old heritage of beekeeping. The country has five beekeepers in every one thousand of its inhabitants.
"We have a lot of knowledge on beekeeping and this is part of our tradition and culture. We have a special bee species, known as Carniolan honey bee," said Strniša.
The Carniolan honey bee is an indigenous Slovenian race of bee, which is famed for its docility, hard work, and excellent sense of orientation.
"We produce honey of good qualities and we are sort of pioneer in beekeeping. We treat bees and honey as a product," she added.
However, commercial beekeeping in Bangladesh is still in a nascent stage. Honey is produced partly through beekeeping by farmers in winter and partly from wild bees.
Strniša said Slovenia plans to launch a pilot project on beekeeping and honey cultivation in association with Brac, a leading non-governmental organisation based in Bangladesh.
She said Bangladesh's climate is different from that of Slovenia. "So, it is necessary to find out whether the bees in Slovenia can survive during monsoon in Bangladesh. But our experts are optimistic."
Strniša also talked on Slovenia's initiatives for World Bee Day on May 20 to raise awareness of the importance of bees and other pollinators to ensure food security, promote sustainable agriculture and protect biodiversity.
The country takes the initiative as bees and other pollinators are on the decline.
"We have to be careful and preserve bees and other pollinators before they face extinction," she said.
She said food production depends on pollinators. "Among pollinators, bees are important because they do 70 percent of pollination and out of 100 crops 70 depend on pollination. So bees have an important role in crop production," she added.