Savar leather estate project delayed again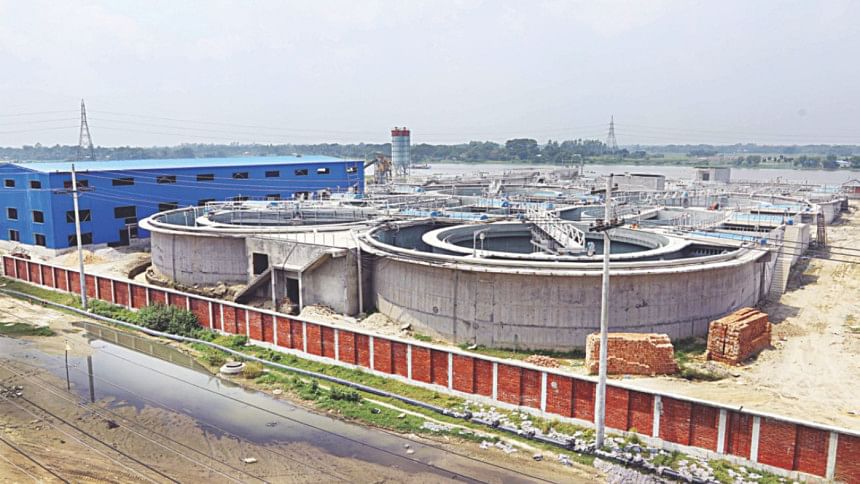 The leather industrial estate project in Savar, which has been in the works for a decade and a half, has been delayed once again and is now gunning for a June 2019 completion.
The development comes after the Executive Committee of the National Economic Council (Ecnec) yesterday extended the tenure of project by another two years. It was not given further funds.
The project was taken up in 2003 for completion by 2005 at a cost of Tk 176 crore. Since then, both the timescale and cost of the project have been extended several times.
In 2013, the project cost was fixed at Tk 1,078 crore and the completion date by June 2016. But the planning ministry later extended the tenure to June 2017.
About 60 percent work has been completed, according to a planning ministry official. The main component of the project, the Common Effluent Treatment Plant (CETP), which was scheduled for completion by August, is yet to be functional.
The main aim of the project was to relocate the tanneries at Hazaribagh to Savar for preventing environment pollution.
So far, 92 of the 155 factories have relocated. In the absence of a functional CETP, the plants are now polluting the water of the Dhaleswari river.
A team from the Implementation Monitoring and Evaluation Division will soon visit Savar to verify if the units were actually contaminating the river, said Planning Minister AHM Mustafa Kamal.
The prime minister has called for a dormitory for workers of the leather estate and the planning ministry will soon get to work on that, he added.
At yesterday's meeting, a total of 8 projects costingTk 4,979 crore were approved.
One of them was the 'smaller water resources development (2nd phase)' project for Tk 1,286 crore.
The project, whose aim is to boost the non-farm income of rural people, will include flood management, water sanitation and water retention and will be implemented in 220 upazilas under 29 districts in Dhaka, Mymensingh, Sylhet and Rangpur divisions.
Ecnec also approved a Tk 582.30-crore project for setting up the Institute of Nuclear Medicine and Allied Sciences at eight medical college hospitals.
The Bangladesh Atomic Energy Commission under the Ministry of Science and Technology will implement the project by June 2020.
A planning ministry official said once the institutes were established it would be possible to easily diagnose and provide treatment to various diseases like thyroid, kidney, liver and bone cancer through nuclear technology.
It will provide treatment to the poor and common people at an affordable cost.
Ecnec also gave the nod to a Tk 1,249.05-crore project for power distribution system extension and renovation of West Zone areas.