Real estate shows signs of recovery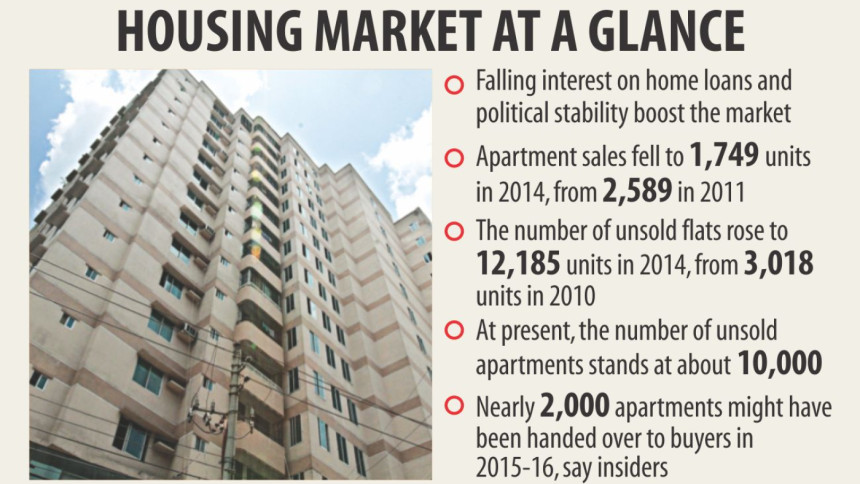 The housing market is witnessing a gradual rebound in sales, thanks to property price corrections, falling interest on home loans and return of political stability.
"There has been a revival in sales since the interest rate on home loans began to fall," said Alamgir Shamsul Alamin, president of Real Estate and Housing Association of Bangladesh (REHAB), the industry lobby group.
Many developers were on the verge of collapse because of a dip in sales in the last couple of years, he added.
Since 2012, the once-burgeoning real estate sector has been in difficult times due to intermittent political instability, a squeeze on bank loans, a bearish stock market, and the government's apathy towards providing gas connections to new buildings.
Apartment sales fell to its lowest level at 1,749 units in 2014 from a recent high of 2,589 units recorded in 2011, putting realtors in a tough patch, according to REHAB.
The number of unsold apartments rose fourfold, from 3,018 units in 2010 to 12,185 units in 2014. At present, the number stands at about 10,000, according to industry stakeholders.
Alamin said a property price correction in the past few years has created interest among home buyers again.
"Property prices have fallen to a certain level. Now people feel the prices can't decline below this limit," he said, adding that political stability had a positive impact on the market.
"We have seen recovering sales in the last couple of months. At least queries were rising, while there was a spike in transactions," said Alamin.
Sales picked up in the second half of 2015 that continued till the end of June, according to Mohammad Farhaduzzaman, marketing in-charge of Eastern Housing Ltd, one of the oldest realtors.
REHAB is yet to finalise the sales figures for 2015 and 2016.
Farhaduzzaman estimates that nearly 2,000 apartments might have been handed over to buyers in fiscal 2015-16. The number was about 1,500 a year ago, he added.
"An interest rate slump for home loans has attracted many mid-income families," he said, adding that it has fallen to as low as 9 percent from 17 percent a couple of years ago.
"A lack of investment opportunities in the face of falling returns on savings and fixed deposits in banks and a bearish trend in stockmarket have also encouraged many people to go for investing in the housing sector," he added.
Banks' fixed deposits have become less attractive as most banks now offer 5-5.75 percent a year. It indicates that the rate of return will be negative in real terms once inflation and tax on interest earnings are taken into account.
Arif Khan, chief executive and managing director of IDLC Finance Ltd, said a fall in the interest rate has made home loans affordable.
"Realtors were not getting buyers once. But availability of easy home loans has helped them out. Demand for home loans is also rising slowly."
IDLC has more than Tk 2,000 crore in outstanding home loans; the amount is 40 percent of its balance sheet, he said.
 "The dull situation that we saw last year no more prevails," added Khan.
However, the recent terror attack in Gulshan has dampened the prospect of a faster revival, he said.
"People were regaining confidence. But the latest incident might have a negative impact. Property investment is a long term investment and people want stability to invest in this sector," he added.
"We were optimistic about a faster recovery this fiscal year. But the Gulshan attack has narrowed that possibility," said Alamin, adding that much would depend on political stability and people regaining their confidence.
With rising purchasing power, people started to buy plots and apartments in the 2000s. As a result, the real estate sector experienced a boom that reached its peak in 2009-10.
Attracted by the boom, 100 new firms entered the industry and sparked unhealthy competition. Many of these new entrants took up expensive projects, a lot of which were even sold. But the bubble surpassed its sustainable limit, which led to its inevitable burst in 2012.
As a result, sales dropped 30-50 percent in the last three years. Because of the slowdown, developers have brought down projects and a huge number of apartments have remained unsold.