Paris names historic building as social business house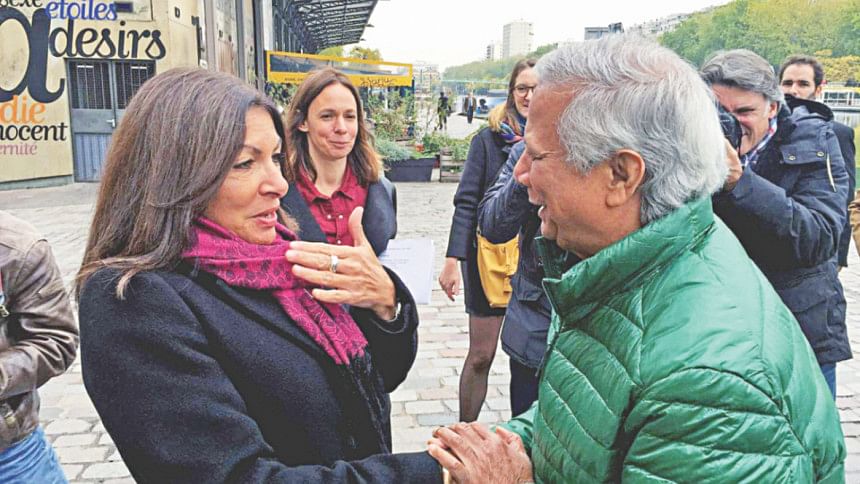 Paris named a historic building—Les Canaux— as a social business house on October 10 to promote social business in the French capital.
Nobel laureate Muhammad Yunus was invited by Paris Mayor Anne Hidalgo to be the chief guest at the launching, Yunus Centre said in a statement yesterday.
Members of the community, representatives of leading businesses, local mayors of the city and the press attended the ceremony.
The historical building built in 1882 served as the administrative office of the Canals of Paris. It is located on the 19th arrondissement of Paris which is a very vibrant neighbourhood attractive to young people.
The mayor of Paris has designated the office to Yunus Centre so that it can help build social business in Paris.
Yunus Centre has also invited Grameen Creative Lab to set up office in the building. Several other related organisations will be invited later to locate their offices in the building to build up a strong team to initiate social businesses in Paris.
Speaking at the launch, Yunus said this is a historic initiative of Paris and a very important step to create a new kind of economy that is based on human values.
He stressed that social business can be a tool for young people to create a world of their dreams and imagination, and this House creates an enabling environment for that.
Mayor Hidalgo thanked Yunus for accepting her invitation to lead the social business initiative of Paris and join her in launching the building.
"The Social Business House is an initiative to give young people an opportunity to create their own enterprises and change their own lives and their communities in a sustainable way."
She posted her thanks to Yunus in her official Facebook page, for "standing by start-ups, young entrepreneurs and social businesses in helping create Paris as a global capital for social business".
Les Canaux is a dedicated space for all collaborative, ecological and inclusive actors working in social business in Greater Paris with objectives of generating solutions, acting as a catalyst for development, a show case for sharing experiences and pooling resources, according to a statement of the mayor's office.