Promote young entrepreneurs through CSR Speakers emphasise at CSR Dialogue: Rajshahi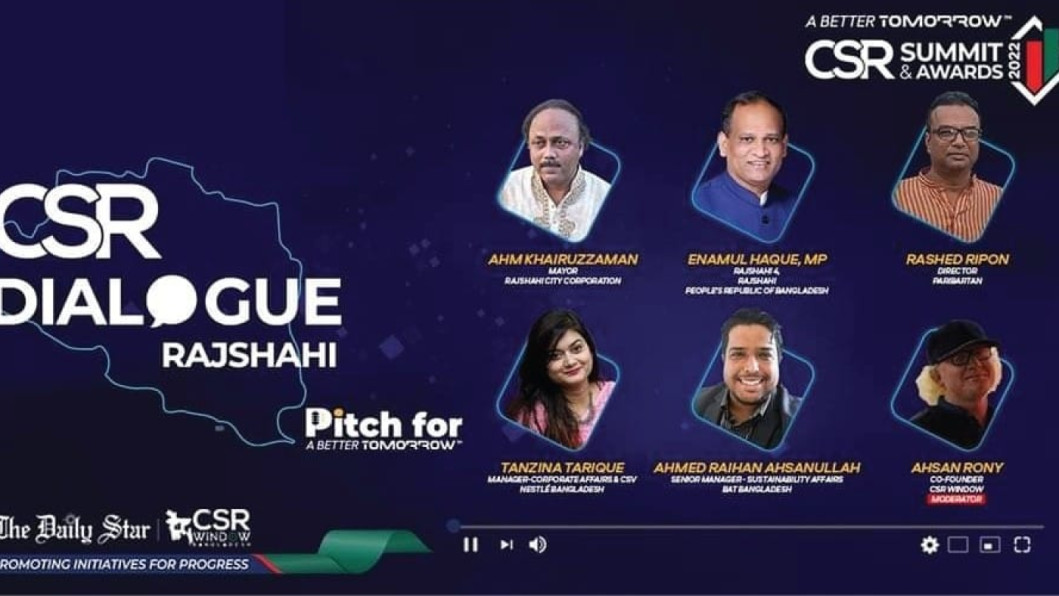 Speakers at an online discussion suggested that CSR initiatives should promote and support young entrepreneurs by providing them adequate training and fund.  
The event titled 'CSR Dialogue: Rajshahi' was held on September 24, 2022. It was part of a joint initiative of The Daily Star and CSR Window known as "A Better Tomorrow: CSR Summit and Awards". The annual nationwide programme aims to create dialogues for future development and sustainability solutions and recognise corporations for their innovative and world-class CSR initiatives, social projects and programmes implemented for sustainable impacts on society.
"In rural areas, people don't have proper access to medical care. Poor roads pose serious risks for critical patients," said Mehenaz Zaman, Project Coordinator of Shushasther Odhikar Shobar at Footsteps Bangladesh. Her organisation has undertaken an initiative named 'SOS Easy-go Ambulance' which will help rural people to reach nearby health facilities quickly and safely. The vehicle is designed in a compact way so that it can reach anywhere. It is solar-powered, and, therefore, eco-friendly. It will also be an income-generating source for rural people who can drive these ambulances and help their community.  
Praising Mehenaz's project, Tanzina Tarique, Manager-Corporate Communications and CSV at Nestlé, said that they would be happy to support these types of projects since Nestlé is a nutrition, health and wellness company.  
" Nestlé believes in Creating Shared Value (CSV). We have Nestlé Needs YOUth platform in our company through which we support young entrepreneurs," she added.  
Ahmed Raihan Ahsanullah, Senior Manager- Sustainability Affairs at British American Tobacco (BAT) also hailed the initiative and talked about prospects for collaboration though BAT's corporate venture arm Btomorrow ventures.
"BAT Bangladesh has been running the largest private sector-driven afforestation programme i.e., 'Bonayan' in Bangladesh since 1980. Over the past 42 years, we have distributed 120 million trees, including 5 million free saplings in 2022. We want to support the government to achieve SDG 13 (Climate action) and SDG 15 (Life on Land)," he added.  
He also talked about the CSR initiative 'Probaho' under which BAT Bangladesh has installed 115 water treatment plants across 22 districts to ensure the supply of pure drinking water to rural communities.  
BAT Bangladesh has already provided about 2600 solar home systems to 15,000 inhabitants of remote villages in the hilly districts through its Deepto project.
The online session was moderated by Ahsan Rony, Co-Founder of CSR Window.