JTI Bangladesh, Bhumijo Inaugurates clean and hygienic public toilets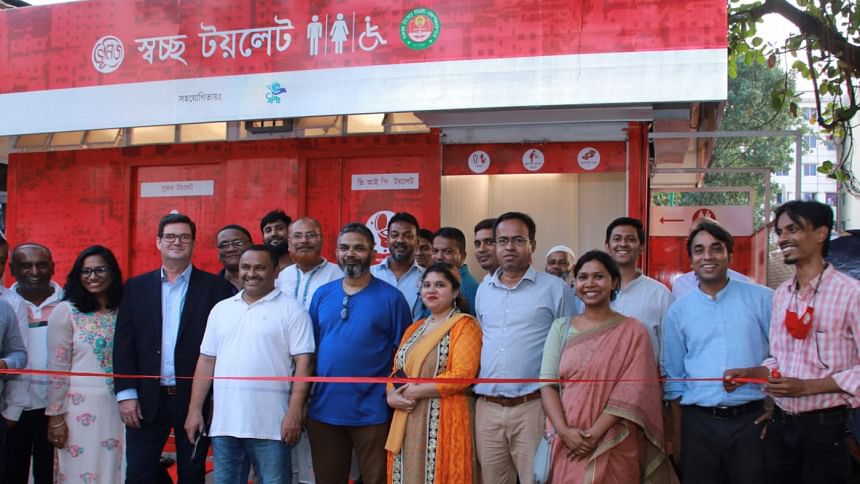 JTI Bangladesh, through the generosity of JTI Global WASH Initiative, is supporting Bhumijo to develop and operate sanitation centres at busy urban hubs. This is a part of the 'Swachho' community investment program which works in the areas of WASH (Access to Water, Sanitation and Hygiene) in low-income communities in urban and rural Bangladesh. The inauguration of the 'Swachho' centre near the Masjidul Akbar Eidgah field at Mirpur 1 was attended by Maqsud Hashem the Chief Town Planner of Dhaka North City Corporation (DNCC), Farhana Rashid the CEO and Co-Founder of Bhumijo, Paul Holloway the Managing Director of JTI Bangladesh and other key personnel from DNCC, Bhumijo and JTI Bangladesh.
Maqsud Hashem, Chief Town Planner of DNCC said "The city corporation is always pleased to see private organizations come together in aiding the public and we are happy to provide any support necessary to maintain and operate the initiative."
Md. Masudul Islam, Co-Founder and COO, Bhumijo said "Dhaka still has less than 100 clean public toilets for its 21 million residents. this causes a lot of health and hygiene problems, especially among women. Bhumijo is working to ensure clean and hygienic public toilets in Bangladesh.  We are grateful to JTI Bangladesh for extending their support to address the crisis. I hope Mirpur just the beginning and we will continue ensuring clean public toilets for all."
Shezami Khalil, Head of Corporate Communications, JTI Bangladesh said "We are honored to partner with Bhumijo on this initiative. JTI has been running different community investment initiatives since entering Bangladesh through the landmark FDI in 2018. We expect this step would provide a space for the residents of Mirpur 1 to maintain proper hygiene outside of their homes."
Bhumijo started its journey in 2017 by creating Bangladesh's first women-only toilet at Gausia market, Dhaka. Well designed and technology-enabled smart management ensures quality. Their focus on business sustainability ensures that the urban poor will continue to receive sanitation services without disruption. Currently, Bhumijo is serving 6,000 people daily through 30 facilities. JTI Bangladesh has supported five of these facilities to date.
In 2018, JT Group acquired the Akij Group's tobacco business for approximately USD 1.5 billion, making it the single largest FDI ever in the Bangladesh private sector. JTI Bangladesh is one of the largest taxpayers in the country and works with approximately 15,000 registered farmers to grow tobacco, fostering rural economic development and exports. Since 2015, JTI Foundation and JTI Global WASH Initiative have supported the livelihood of almost 345,000 beneficiaries in WASH, disaster management and COVID-19 relief.