Daraz celebrates '1 Lakh DigiBox Delivery' milestone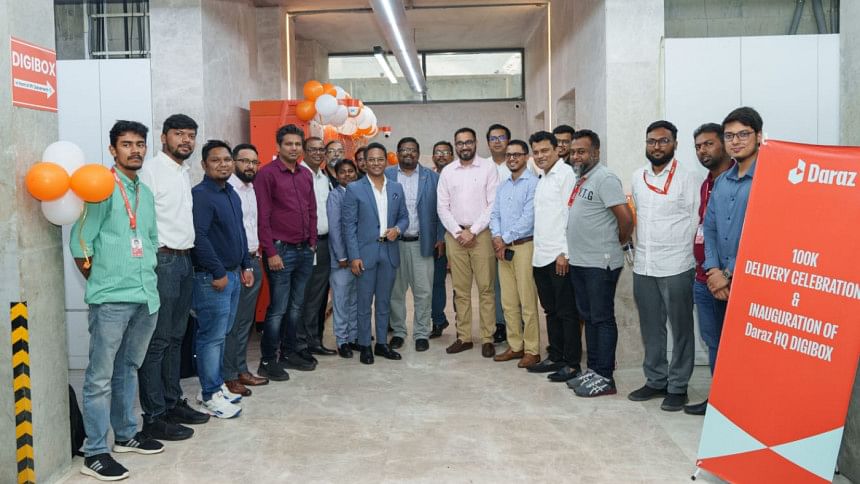 The country's leading e-commerce marketplace, Daraz Bangladesh, has recently celebrated the '1 Lakh DigiBox Delivery' milestone', and launched the 27th DigiBox at Asfia Tower, Banani, Dhaka, providing IoT based automated collection facility to customers of Daraz. The service was launched by the ICT State Minister Zunaid Ahmed Palak at the ICT tower on 11th October'22. 
On this occasion, Daraz Bangladesh Limited's Managing Director Syed Mostahidal Hoq, Chief Operating Officer Khondoker Tasfin Alam, Chief Corporate Affairs Officer, A H M Hasinul Quddus Rusho and other high officials were present during the celebration event whilst from the DigiBox side, Chairman Morshedul Alam Chaklader, Head of a2i Commercial Strategy Rezwanul Haque Jami, e-Commerce Implementation Expert of A2i Tawfique Ahmed and other officials were also present to share the moments.
Khondoker Tasfin Alam, Chief Operating Officer, Daraz Bangladesh, stated, "DigiBox was introduced back in October'22 and we are overwhelmed to see the popularity & feedback of our respected users irrespective of demographic barriers. Currently, the 'Made in Bangladesh' DigiBox is operating in Six Divisions. Our goal is to make this service gradually available all over the country within the shortest time possible."
Reaching the figures of 100K, by 'Digibox' service, Daraz strongly believes that we are moving towards the next era of digitization in Bangladesh. After building the largest and strongest logistics infrastructure in the country, Daraz is now focused on building a smart Bangladesh with more eco-friendly initiatives like this.