BAT Bangladesh Launches its 1st ever Environmental, Social and Governance (ESG) Report for 2021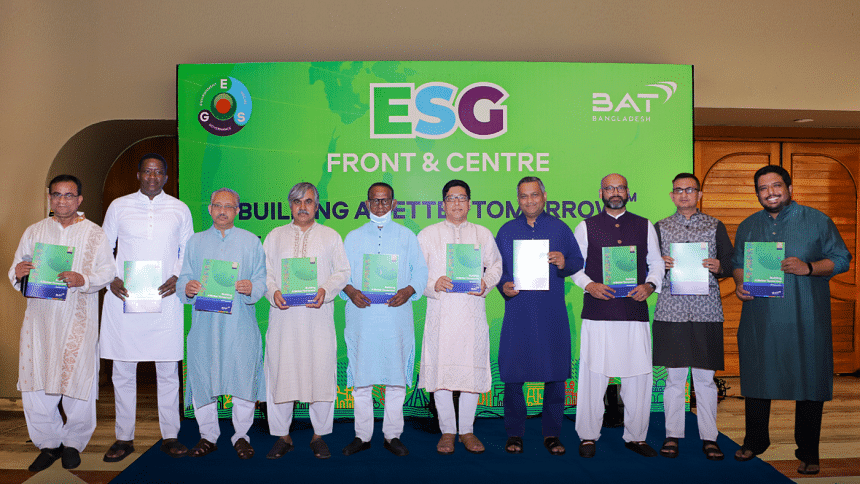 On 20th April, BAT Bangladesh, one of the country's leading multinational companies, launched its first-ever Environmental, Social, and Governance (ESG) Report for 2021. The report was launched at an event in Hotel Sonargaon in presence of several esteemed guests, representing both the public and private sectors. Introducing the concept of ESG in Bangladesh, BAT Bangladesh is proud to be the 1st organisation to launch an ESG report in the country.
BAT Bangladesh's purpose is to build A Better Tomorrow™ by transforming the business and guiding it toward a sustainable future. The Company acts as a development partner to the government in supporting the Sustainable Developments Goals (SDGs). The ESG report outlines how the Company is delivering against its purpose and putting sustainability at the front and centre of all business actions to deliver impactful changes across wider communities.
The report covers BAT Bangladesh's ambitious ESG targets comprising reductions in carbon emission, waste recycling, water recycling, maximizing usage of renewable energy and much more. The Company has been upholding excellence in its operations for 111 years, taking numerous initiatives to educate its farming community about environment-friendly and sustainable agricultural practices for enhancing soil fertility, conserving water, and decreasing pollution. BAT Bangladesh's flagship ESG initiative, the country's largest private-sector-led afforestation program, has distributed approximately 115 million saplings to its beneficiaries free of cost. A project which installed around 111 water filtration plants aimed at providing safe drinking water free of arsenic and other impurities to over 273,000 beneficiaries from rural communities is also a part of the Company's ESG portfolio. Another renewable energy project that provides solar electricity to the households of over 15,000 people in off-grid remote areas at the Chattogram Hill Tracts. In recent times the Company also piloted a renewable energy initiative in Rajshahi in collaboration with Rajshahi City Corporation and Solshare.
"We are excited to publish our ESG Report and share the progress we have made in our ESG journey. BAT Bangladesh has been working as a sustainable development partner of the Government by complementing 8 SDGs through multiple community initiatives. This ESG report stands as a true testament of BAT Bangladesh's relentless efforts and social responsibility to build a better tomorrow." Shehzad Munim, Managing Director of BAT Bangladesh, spoke at the external launch event.
BAT Bangladesh's sustainability efforts and commitment to high standards have garnered notable recognition from multiple quarters, including the likes of the Honorable Prime Minister's National Award for afforestation (5 times), Highest Taxpayer Award back-to-back, ACES Award as the one of the Top Green Companies in Asia, Top Employer Award (3 consecutive years), Asia Responsible Enterprise Award by Enterprise Asia, among other accolades. By aligning local focus with a global vision, BAT Bangladesh believes that this ESG report will inspire other public-private organisations and pave the path toward A Better Tomorrow for all.