Operators lost 73.29 lakh SIMs in 2016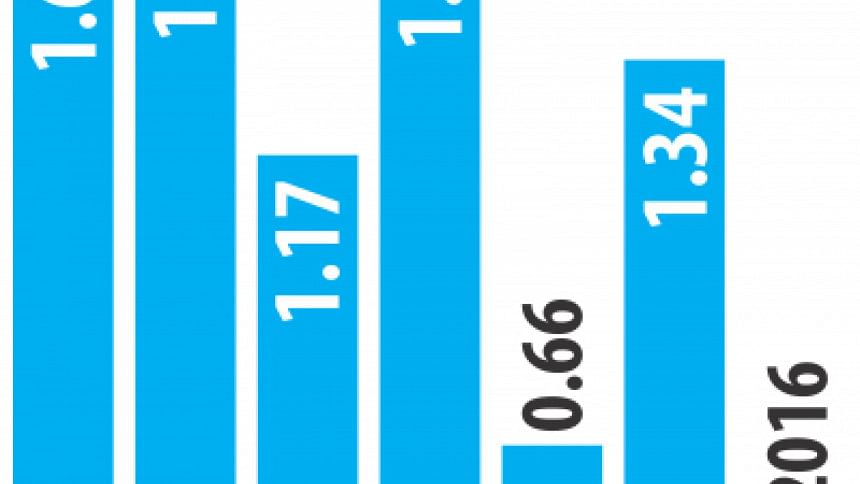 Mobile operators lost 73.29 lakh active connections last year mainly due to the biometric SIM re-registration.
The number of active SIMs fell 5.8 percent year-on-year to 12.64 crore at the end of 2016, according to a report published by Bangladesh Telecommunication Regulatory Commission yesterday.
The industry began 2016 with 13.37 crore active mobile connections. The total number of SIMs (subscriber identity modules) was 12.96 crore as of February this year, the report added. However, mobile internet witnessed a boost in the year, as the number of internet-enabled connections rose 22 percent to 6.28 crore at the end of 2016.
"We went through a period of transition last year for re-registration and we have already overcome it," said TIM Nurul Kabir, secretary general of Association of Mobile Telecom Operators of Bangladesh.
The industry has returned to normalcy and the number of connections is growing gradually, he added.
"Customers have adopted the biometric re-registration process, which has helped mature the telecom market."
Biometric re-registration began in December 2015 and ended in May last year.
At that time, the industry lost more than one crore subscribers as BTRC directed operators to deactivate SIMs that were not verified biometrically.
Top officials of the mobile operators termed last year as their worst possible year, as this was the first time the industry witnessed negative growth.
All the mobile operators saw negative growth, except Grameenphone, which added 12.75 lakh SIMs in 2016.
Banglalink lost 18.91 lakh SIMs, BTRC data showed. Robi lost 24.09 lakh, Airtel 27.87 lakh, and state-owned Teletalk 5.10 lakh SIMs.
The oldest operator of the country Citycell, which has no customers at the moment, had 10.07 lakh active connections at the end of 2015, according to the BTRC report.
Citycell was blocked last year for a couple of months as it owed huge sums of money to BTRC.