Smart Bangladesh can be attained before 2041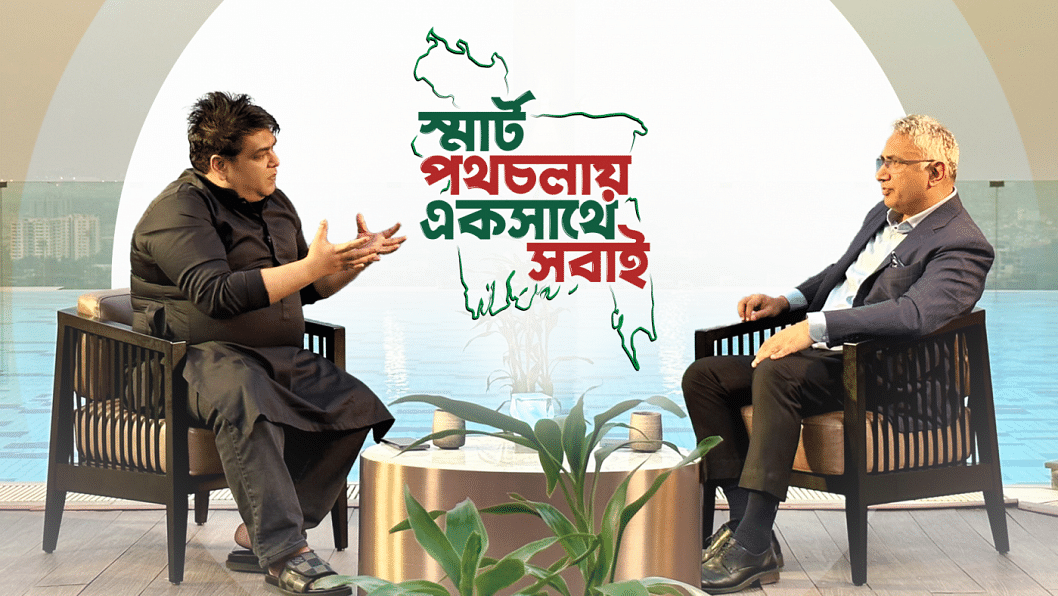 It is possible to become Smart Bangladesh ahead of the targeted 2041 if the industry gets conducive policies and regulations, said two iconic tech industry leaders.
"The faster we can create the environment, the sooner our 2041 dream will be realised," said Yasir Azman, chief executive officer of Grameenphone in a freewheeling discussion with Tanvir Ahmed Mishuk, founder and managing director of Nagad, to mark the two companies' anniversaries.
Nagad turns four and Grameenphone 26 on this March 26. The two pathbreaking companies share their birthdays with Bangladesh's Independence Day.
"I think we will get to Smart Bangladesh before 2041," said Mishuk, citing the progress made in both digital and physical connectivity in recent years and the massive infrastructure works under way to further his point.
But, everyone needs to play their part and collaborate.
The two cited a partnership between their companies that introduced Bangladesh to the frills of smart KYC. One can open a Nagad account just by dialling *167# from one's phone.
This was possible as Nagad could piggyback on Grameenphone's customer verification database for mobile connections.
"Because of that partnership, the lives of seven crore people have changed," said Mishuk, a disruptor in Bangladesh's MFS landscape.
And it was not Grameenphone or Nagad that solely benefitted from the partnership; it was the ordinary people of Bangladesh, who could get access to formal financial services cost-free and hassle-free, he added.
Before that, Nagad also introduced the state-of-the-art e-KYC process. Under the process, one can open a mobile financial service account by clicking a selfie and uploading one's national ID card -- hacking down the waiting period for account activation from 7-10 days to mere minutes.
Today, the e-KYC procedure brought by Nagad is now being used by others in the financial sector.
"You have brought out a beautiful perspective -- we can't do anything individually. Today, telecom and mobile financial service are forming partnerships. Tomorrow, telecom, MFS and health will form partnerships. In that way, smart Bangladesh will have a smart health service and smart education," Azman said.
The Grameenphone CEO stressed on right governance too to materialise the vision along with the right policies and regulations.
"We have the infrastructure and digital connectivity. Now ports are coming in and economic zones are being created. There are talks of tax benefits, too. These things are creating the environment where businessmen like you come up with new business ideas and foreign investors would want to invest in this market," he added.
But Mishuk feels Bangladesh needs better and more effective branding.
"Sometimes I feel bad that we are lagging in branding our country properly. Look at our neighbouring country India, where crores still don't have access to proper toilets. But they are successfully branding their country," he added.
Azman, who has been Grameenphone's CEO since 2020, went on to call for positive and constructive criticism to build a better narrative for Bangladesh.
In that way, the road to becoming a Smart Bangladesh -- whose four pillars are smart government, smart economy, smart citizens and smart society -- will become easier.
"We have a strong vision and direction set for us. In one of the speeches of our Prime Minister, she said she wants everyone's participation and cooperation in creating an advanced, high-income, innovative, flourishing and smart Bangladesh by 2041," Azman added.
Mishuk said the youth population, which is Bangladesh's greatest strength, must be fully brought on board with the vision and rightly prepare them.
"We must have our eyes in two places: a telescope and microscope. Telescope to envisage the future and a microscope to keep tabs on what is happening around the world today. If the youth population can combine those and use their brains, nothing can hold them back, nothing can hold Bangladesh back," he said.
And the government has a proven record of taking landmark decisions to make the best of its gifts, Azman said, citing Nagad's entry into the mobile financial landscape as a case in point. Nagad is a partnership between the Bangladesh Post Office and Nagad Ltd.
"The way Nagad entered with innovations and how it is progressing now, there were some visionary, landmark decisions behind it. We have to build on it and march forward."
Nagad -- and the MFS ecosystem at large -- would be playing a pivotal part in decentralising economic activities from Dhaka to all over the country, according to Azman.
Along with a breezy onboarding process, Nagad also provides the lowest cash-out charge among the MFS providers, and in so doing, enabled access for the rural and marginalised people.