Sino-Bangla investment summit on January 25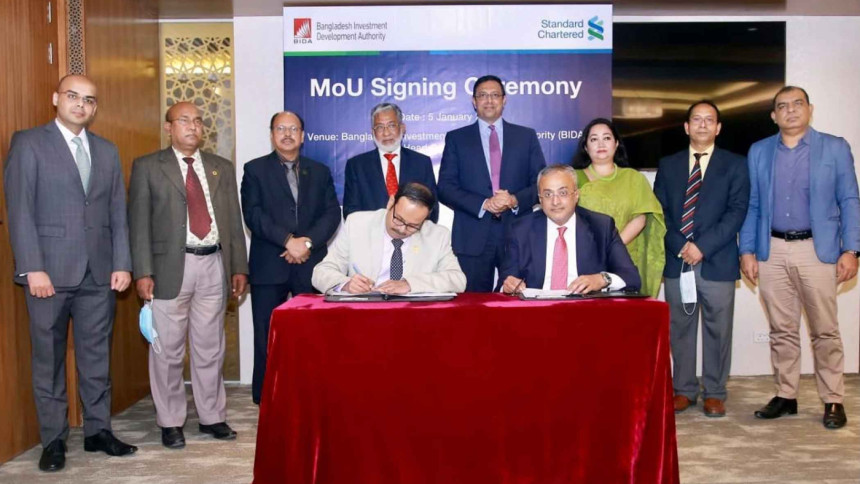 Bangladesh Investment Development Authority (Bida) yesterday joined hands with Standard Chartered Bangladesh to work together to bring in more foreign investment.
The country's apex investment promotion body and the British multinational bank will collaborate on marketing and trade exchange initiatives that will help companies invest in Bangladesh.
Abdul Hamid, secretary to Bida, and Mohammad Enamul Huque, head of corporate banking at Standard Chartered Bangladesh, signed a memorandum of understanding in this regard at Bida's office in the capital's Agargaon.
The first initiative to be taken under the partnership will be a China-Bangladesh Investment Summit, which is scheduled to be held on January 25.
The virtual event will showcase potentials for partnerships between the two Asian countries and highlight the emerging strategic opportunities in the highly promising Bangladesh-China trade and investment corridor.
Over 300 delegates representing Chinese public and private sectors, policymakers, investors, bankers and economists along with prominent leaders from Bangladesh's private and public sectors are expected to join the event.
"We have several targets like becoming a developing country by 2024, higher middle-income country by 2030 and a developed one by 2041. The targets will not be materialised without foreign direct investment," said Md Sirazul Islam, executive chairman of Bida.
"The bank's domestic and foreign networks will be utilised to develop the country's key sectors such as agribusiness, ICT, electronics, plastics, light engineering, shipbuilding, tourism, renewable energy and healthcare," he said.
The foreign investors have very little idea about the rapid growth the Bangladesh economy has achieved, said Naser Ezaz Bijoy, CEO of the bank's Bangladesh operations.
"To disseminate the truth and ensure faster economic growth of the country, the bank teamed up with Bida to organise the virtual dialogue," he said.
The bank actively promotes Bangladesh as an investment destination through its flagship event called "Bangladesh Investment Summit". Till date, six investment summits have been organised in Singapore, Hong Kong and London.