Shipment falls for anti-export policy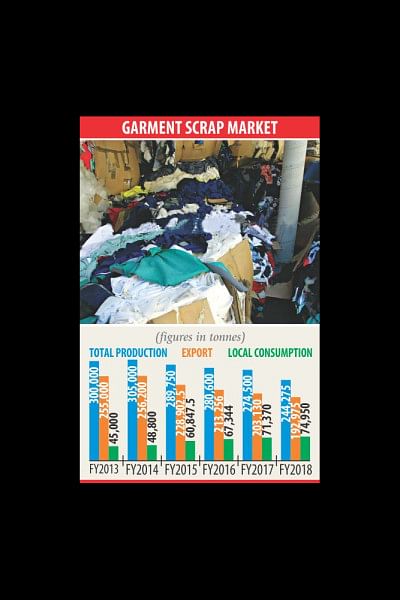 Despite being a promising export item, shipment of garment scrap, locally known as jhoot, fell last fiscal year mainly due to the government's anti-export policy amid rising local consumption and a Chinese ban on import, industry people said.
Exports fetched $50 million in fiscal 2017-18, down 16 percent year-on-year, according to Syed Nazrul Islam Faruque, president of Bangladesh Textile and Garments Waste Processors and Exporters Association. "This is an indirect reflection of the government's anti-export tariff policy," he told The Daily Star.
He said export slightly came down as China stopped importing the textile waste from Bangladesh at the end of 2017. In the previous years, Bangladesh used to earn $60 million to $70 million per year by exporting garment scrap.
Depending on quality, the export price of the apparel waste is $120 to $500 per tonne. However, Bangladesh Tariff Commission has fixed the minimum export price at $320 a tonne whereas the price hovers between $120 and $500 in the international market.
"We can't export jhoot at a low price because of the tariff policy although there is a huge demand of the low-end textile waste in the international market," Faruque added.
About three lakh tonnes of garment leftovers are produced in Bangladesh every year. Of them, 95 percent is being exported, mainly to India and European countries. Cotton, yarn or even clothes are manufactured from the discarded fabrics and yarn through recycling.
Industry people said the export volume would increase if the government does not fix the tariff.
There are two categories of garment scrap: one is from woven fabric and another from knit. Woven scrap is cheaper than knit, as it is easy to recycle the knit waste to yarn or fibre after reprocessing, Faruque said.
According to the chief of the association, they collect woven waste at Tk 25 to Tk 26 per kg and knit scrap at Tk 40 to Tk 45 a kg and then process them.
About 10 lakh workers are involved in the waste processing industry and there are more than 1,000 waste processing factories in the garment industrial areas. More than 100 businesses are directly involved in exports.
According to the exporters' platform, a record 192,975 tonnes of scrap were shipped in 2017-2018, 203,130 tonnes in 2016-17, 213,265 tonnes in 2015-16, and 228,902 tonnes in 2014-15.
Separate data on garment scrap export is hard to come by as the National Board of Revenue considers the shipment as part of the overall garment export. There is no separate harmonised system (HS) code although the Tariff Commission has fixed the minimum export price, said Faruque.
He said there is no capable spinning mill in Bangladesh that can recycle garment leftovers to manufacture yarn and fabric. So, most of the processed waste has to be exported.
There are a maximum 20 millers which manufacture terry towel using garment waste as raw material, but the quantity is very low.
About 40 percent of the garment leftover is exported to India, 40 percent to Europe, 15 percent to other countries, and the rest 5 percent is used locally to manufacture terry towel, according to Vhim Khetan, managing director of RL Trading, an exporter of apparel scrap.
Bangladesh has huge potential to export the garment leftovers as most of them are not locally used and a huge amount is generated by garment factories.
"If garment scrap is not exported, it will emerge as an environmental hazard."