Scanty imports barely impact onion prices
Up by Tk 10 per kg in a day in Ctg wholesale market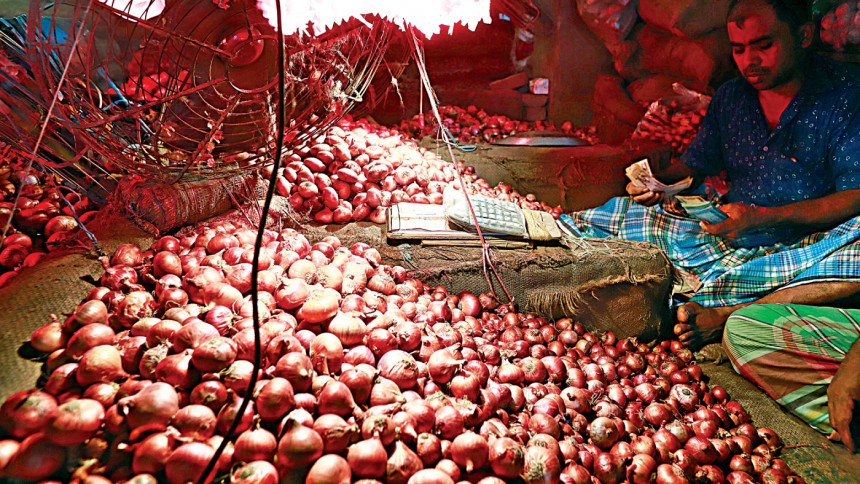 Wholesale prices of both imported and locally grown onion shot up by Tk 5 to Tk 10 per kilogramme within a span of 24 hours in Chattogram city's Khatunganj market despite the arrival of stocks from alternatives to India through the port.
Traders of Khatunganj wholesale market yesterday were found selling the local variety at Tk 80 to Tk 82 a kg whereas a day back their asking price was Tk 70.
In case of Pakistani and Myanmarese ones, the price has risen to Tk 66 to Tk 70 from Tk 60 to Tk 65 in a day.
Retailers in the city were seeking Tk 10 to Tk 20 higher.
Traders claimed that the alternatively sourced stocks were little in quantity, unable to meet the market demand. They predicted prices to regain stability within a week once larger volumes arrive.
The traders expected around 12,500 tonnes of the vegetable to enter the Chattogram port by October 10 and normalise supplies.
According to data from the port's plant quarantine centre and importers, 350 tonnes from Pakistan and Myanmar were received by four importers at Chattogram port in the last couple of days.
Two more consignments from Myanmar weighing 210 tonnes were sitting in the port's yards waiting for delivery, officials said.
"Importers come to get import permission (IP) before opening letters of credit (LC) for import," Muhammed Asaduzzaman Bulbul, the centre's deputy director, told The Daily Star.
After getting IPs from the plant quarantine centre, importers are able to open LCs in banks. Till October 3, IPs have been obtained for 1.60 lakh tonnes of onion from seven countries.
"A few consignments of around 350 tonnes have come from Myanmar and Pakistan during last few days and most of the consignments will start arriving next week from far-off countries including Egypt, the Netherlands, Turkey and New Zealand," he said.
The centre says about 100 importers had obtained the IPs, including Sonali Trading Company, Akhi Trading, Trade Link Corporation, Farhad Trade Co, Blue Sky Trade and Shele Trading Company.
"Due to the crisis of onion in the market, it is changing hands two or three times before being released from the port," said Mintu Sawdagar, a Khatunganj wholesaler.
"As a result, there is a big price difference between the wholesale or retail rate and the import rate. In order to control the market, it is important to increase supply while the government should fix the prices."
He claimed that Khatunganj's wholesalers offer prices fixed by importers and avail 2 to 3 per cent in commission from the sale.