Taming coronavirus rampage
Remote work: productivity without compromising safety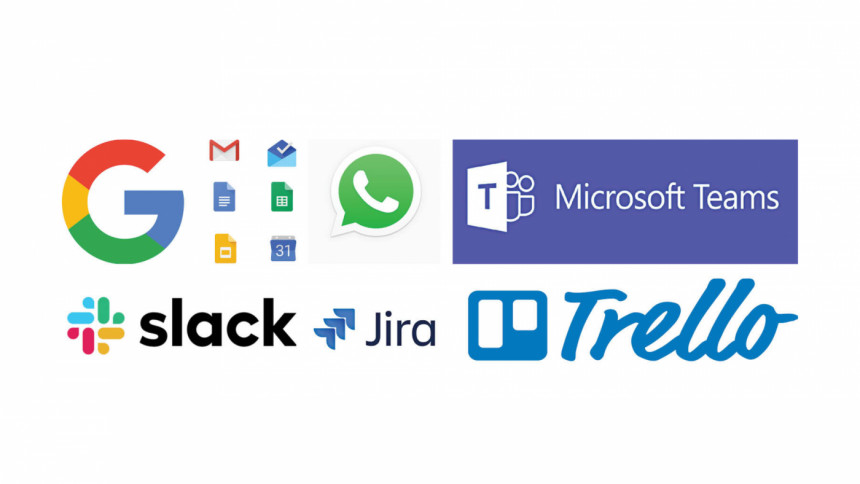 Will coronavirus bankrupt more people than it kills? Well, economists are predicting that it will, in various industries, by the end of 2020.
The International Labour Organisation said that nearly 25 million jobs will be lost globally due to the coronavirus pandemic.
For countries like Bangladesh, dependency on garment export and foreign remittance means we should embrace ourselves for serious economic strains.
Governments around the world are imposing lockdown to reduce the spread of the virus. Many businesses' operations are at halt.
However, staying productive during this crisis period may save companies from going out of business in the near future.
Remote work is now the safest way to achieve the highest level of productivity in this situation.
With the right mindset and tools, in this digital era, anything can be done remotely.
As the pandemic has reached local transmission level in Bangladesh, a growing number of companies in Dhaka are asking their employees to work from home.
Grameenphone, Unilever and Banglalink were some of the firsts to ask their employees to work from the confines of their homes.
Other multinational and local companies, including Robi, Nestle, eGeneration, NewsCred, Magnito Digital, JoomShaper, HandyMama, Sheba.xyz, JoBike, Adcomm, MGH and Cisco, soon followed suit.
More and more companies are embracing this trend every day to stay productive during this challenging time without compromising on the health and safety of their employees and their families.
This is not only helping to restrict unnecessary transmission of the disease but also enahncing employers' branding and goodwill among employees and potential employees.
However, there is still a large number of companies that are unable to make the decision to work remotely for lack of proper tools and structure.
Before asking employees to start working from home, it is important to have a work-from-home policy in place, which will help management feel comfortable about productivity and set expectations for the employees.
The policy should reflect on who can work from home, admissible working hours, approval process while working remotely, communication channels, responsiveness and availability standards, technology support and requirements, how to ensure data and device security, reporting standards, frequency of team meetings etc.
It is also important to set quantifiable and well-defined key performance indicators for employees to measure their remote work performance.
Given that the policy is ready for implementation, here are some productivity tools that can be used to ensure seamless communication and collaboration between team members to keep them productive from the safety of their home.
WHATSAPP AND SLACK FOR MESSAGING
WhatsApp is a very popular instant messaging app that is available on both mobile and desktop platforms. It offers messaging, audio/video calls and document sharing among its users.
It also has features like group calls and live location sharing, which can be useful for teams that work remotely.
Slack is essentially a tool for organisations to collaborate through messaging. It has onboarded 7,000 new customers in just seven weeks since February amid the remote-work boom around the globe.
Its workspaces allow any organisation to have communication by channels for group discussions.
Slack also allows private messages for sharing information, files, and more all in one place.
GOOGLE DRIVE, DOCS, SHEETS AND SLIDES FOR PRODUCTIVITY
Google Drive allows users to securely store and share files between them.
Google Docs is an online word processor, Google Sheets is an online spreadsheet and Google Slides is an online slide making tool to create and give business presentations.
Team members can collaborate with each other in real-time from separate locations using these tools from Google.
ZOOM AND GOOGLE HANGOUTS FOR VIDEO CONFERENCING
Apart from messaging, another effective way to communicate with colleagues when working remotely is video conferencing.
Both Zoom and Google Hangouts offer this service with features like virtual meeting, screen sharing and call recording with up to 250 people.
TRELLO AND JIRA FOR PROJECT MANAGEMENT
Managing general projects and assigning tasks among team member has been made easy with Trello, a lightweight project management tool, designed as a Kanban board to visualise task flows of any project.
On the other hand, Jira is designed for agile software development teams for project planning and issue tracking.
It offers various dashboards and overviews for scrum and agile techniques. It also offers time tracking for each team member.
MICROSOFT TEAMS WITH OFFICE

365: ALL-IN-ONE
Microsoft Teams, which is part of Microsoft's Office 365 suite, is like a Swiss Army knife. It combines all the best features of the apps and tools mentioned above.
It offers instant messaging like WhatsApp; channel and group communication like Slack; video conferencing and screen sharing like Zoom and Hangouts; Google Drive-like file storing and sharing through OneDrive; online version of industry standard productivity tools such as Word, Excel and PowerPoint with real-time collaboration; Trello-like project management and planning through Microsoft Planner, brainstorming and note taking through OneNote; and many other integrated tools to achieve business collaboration.
After the COVID-19 outbreak took place in Wuhan, Microsoft Teams usage soared 500 per cent in China as many Chinese companies opted for working remotely.
Microsoft also came forward to help businesses during this global crisis by offering a limited version of Microsoft Teams for free for six months.
Adaptation is the key to survival. The coronavirus pandemic is fundamentally changing the way many organizations operate for the foreseeable future.
As governments and businesses around the world tell those with symptoms to self-quarantine and everyone else to practice social distancing, remote work is our new reality.
Winning against this virus will come with endurance and that will be the defining moment of our generation.
At the same time, it has given us an opportunity to bring about digital transformation to our businesses with the right tools, technology and process re-engineering, not only to survive in the coming days but also to thrive under any future threat.
The writer is the chairman of eGeneration, general partner of Pegasus Tech Ventures and former president of the Bangladesh Association of Software and Information Services