Onion prices to remain high for a month: commerce secretary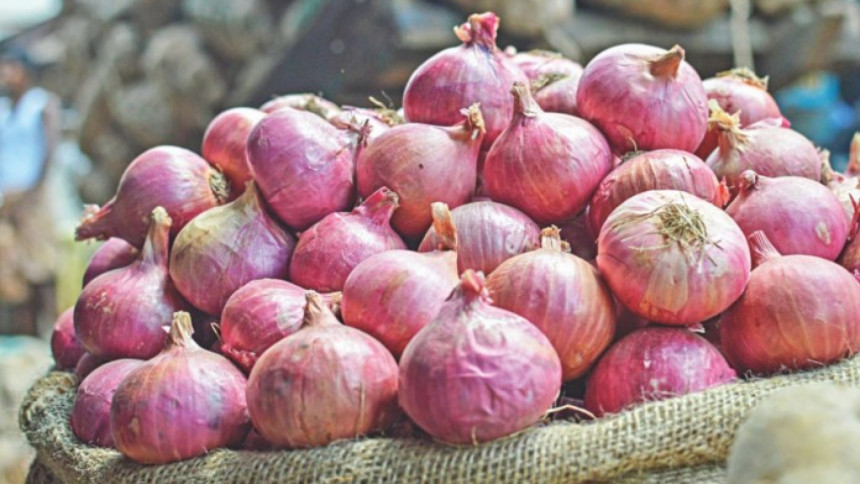 Onion prices will continue to remain high for the next one month until the local variety is harvested, Commerce Secretary Tapan Kanti Ghosh said today.
Onion is now selling at Tk 70-75 a kg, up from Tk 40 a month ago in the local markets.
Rainfall has made the widely consumed vegetable pricier in India, the largest onion sourcing country for Bangladesh, Ghosh said.
However, the secretary claimed there is adequate supply and stock of onion in the country.
Sugar prices have also been continuing at high rates although both Commerce Minister Tipu Munshi and Ghosh claimed that the prices of sugar may decline soon as the government has been taking measures.
The commerce ministry has already asked the state-owned Trading Corporation of Bangladesh to increase the sales of its basic commodities so that the prices go down in the markets.
Ghosh also said the commerce ministry sent a letter to the National Board of Revenue (NBR) to withdraw 5 per cent duty on import of onion to increase the supply of the item in the markets.
Both the minister and the secretary replied the queries of journalists after a meeting with the businessmen of four basic commodities at their secretariat office in Dhaka today.
The secretary discussed the supply, demand and prices of four goods, including onion, edible oil, sugar and lentil, where Munshi attended the event virtually.