Nagad to issue Tk 500 crore zero-coupon bond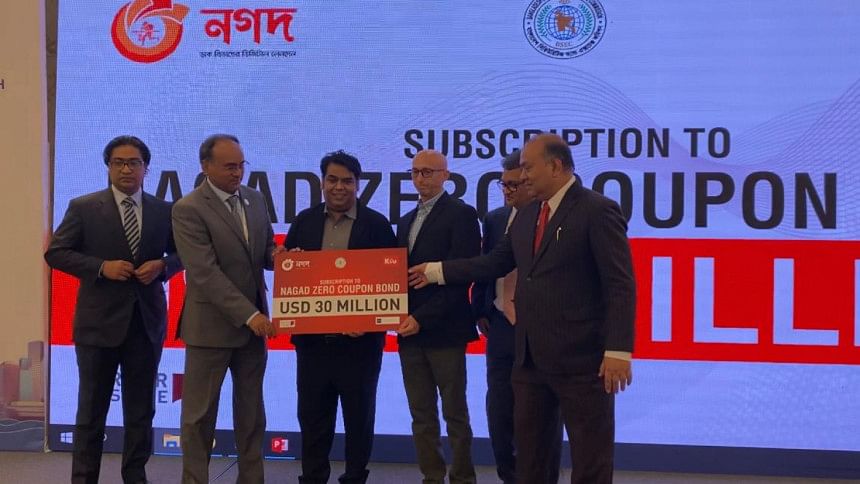 Nagad Ltd plans to raise Tk 500 crore of zero-coupon bond in order to pay part of its loans, develop network, hardware and digital financial service platform and buy IT equipment.
Investors of the bond will get Tk 750 core at its five-year maturity, said the company, which acts as the main agent for mobile financial services of Bangladesh Postal Office.
A zero-coupon bond is a debt security that does not pay interest but trades at a deep discount, rendering a profit at maturity, when the bond is redeemed for its full face value, according to Investopedia.
The company, which has been named from Third Wave Technologies in February this year, said many foreign investors showed interest to invest in the bond.
Kiu Global, a US-based digital services company, has already expressed interest to subscribe $30 million of the bond, Nagad said in a press release.
Nagad made the announcement at an investor show organised by Bangladesh Securities and Exchange Commission (BSEC) in New York, USA on July 26.
Nagad, which is one of the key partners of the event, has received initial approval from the BSEC to issue the bond, according to the statement.
Riverstone Capital is acting as the arranger of the bond wherein Green Delta Capital will be the trustee, the company said.
ZA Capital Advisory is the official financial consultant for the bond, according to the statement.
Tanvir A Mishuk, managing director and co-founder of Nagad Ltd, said the bond market has also become vibrant in recent past.
"We consider this as a better source to raise investment," he said.
Mishuk said Nagad now has 5.3 crore customers within two years and a quarter of its inception.
To keep the growth momentum, it is essential to build a new digital ecosystem and infrastructure, he said.
BSEC Chairman Professor Shibli Rubayat-Ul-Islam said: "The BSEC, in collaboration with our ecosystem of regulators and stakeholders, is working towards the development of Bangladesh's capital markets, particularly debt market, which will be vital for financing long-term needs of our industries and infrastructure."
Mohammad Rezaul Karim, spokesperson of the BSEC, said Nagad submitted its application and is yet to get the final approval for the bond.
Its approval is in the final stage, he said, adding that the regulator gave no-objection certificate to Nagad to go for a memorandum of understanding with the foreign investor.