Lay's potato chips to be produced in Bangladesh
PepsiCo teams up with Transcom Consumer Products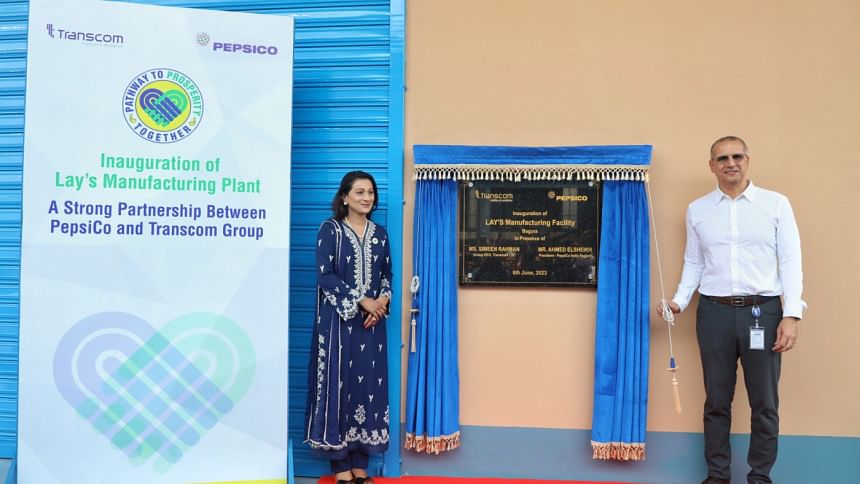 Lay's, one of the world's most-loved potato chip brands from PepsiCo, is going to produce its chips in Bangladesh.
Lay's, one of the world's most-loved potato chip brands from PepsiCo, is going to produce its chips in Bangladesh.
Highlighting its steadfast dedication to Bangladesh, "Lay's Make in Bangladesh" initiative has been taken in partnership with Transcom Consumer Products Ltd, according to a press release.
Ahmed ElSheikh, president of PepsiCo India region, and Simeen Rahman, group chief executive officer of Transcom, unveiled the initiative at a manufacturing plant in Bogura.
"The establishment of the manufacturing unit dedicated to making the iconic Lay's potato chips, at the plant, serves as a powerful testament to Lay's unwavering commitment to supporting the local community and driving economic growth in the region," PepsiCo said.
The launch of the initiative stems from PepsiCo's presence in the country over two decades because of its strong and fruitful partnership with Transcom Group.
Benefiting from Lay's existing popularity in Bangladesh, this initiative will meet the robust and growing local demand for innovative formats and flavours in the booming potato chips market, bringing a delightful snacking experience to consumers, it said.
Lay's has set a target of procuring 10,000 tonnes of high-quality chip-grade potatoes for its plant in Bogura, thanks to its ties with more than 1,200 local farmers with a reliable market through a buy-back arrangement.
"Upskilling the value chain to strive for quality as a differentiator will be key to PepsiCo's potato volume ramp-up journey. This state-of-the-art facility will also serve as a hub of employment, creating a multitude of direct and indirect job opportunities," said PepsiCo in the statement.
"The positive impact of this plant reaches far beyond its walls, as it will foster a ripple effect throughout the entire go-to-market structure."
Highlighting the plant's goals and commitment to Bangladesh, Pranav Mehta, country manager of foods at PepsiCo, said, "Lay's is a globally loved brand known to create magical moments of togetherness."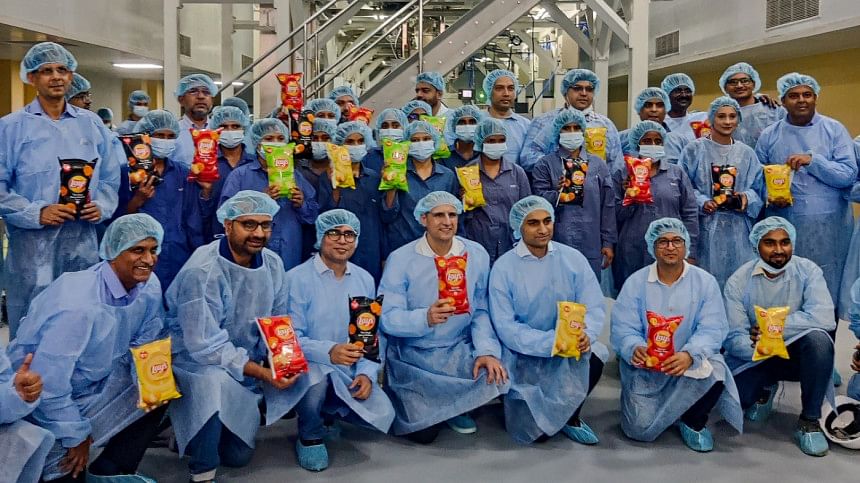 "The response for Lay's has been no different in Bangladesh and this encouraged us to launch 'Lay's Make In Bangladesh' initiative with our trusted partner, Transcom."
The initiative will not only bring joy to millions of consumers who can enjoy Lay's products made right here in Bangladesh but also instil a sense of pride among farmers and the entire workforce who will witness their hard work transform into delicious and globally recognised snacks starting at an affordable price of Tk 10, reaching a larger audience, Mehta said.
"The plant embodies our vision for a brighter future, where we actively contribute to the growth and prosperity of Bangladesh through a sustainable agriculture business model."
Talking about the initiative, Ahmed ElSheikh, president of PepsiCo India, said, "The plant stands as a shining example of Lay's commitment to local empowerment, community development, and long-term partnerships in pursuit of a brighter future."
"As we unfold this new chapter with Transcom, our partnership will further ensure the region's strong growth and prosperity. We are proud of this historic milestone in Bangladesh where PepsiCo will be able to engage and work closely with a strong farming community."
"We are optimistic that the latest technology and know-how around potato cultivation will help the farmers and local communities flourish hand in hand."
Talking on the sidelines of the launch, Simeen Rahman said, "We have been a trusted partner for PepsiCo in the region for over two decades and are proud to stand by them in yet another milestone in their journey in Bangladesh."
"Today is a historic day for the people of Bangladesh as Lay's, a globally loved brand, will now be locally produced. This will usher a new opportunity of enhancing income avenues for farmers, agro firms, transporters, cold storages and contractual workforce, bolstering the entire ecosystem and driving economic growth in the region."
"We are confident that PepsiCo's commitment to the market will reciprocate with accelerated growth for the company and brand Lay's."
Lay's chips will be available in four flavours, namely "American Style Cream and Onion", "Spanish Tomato Tango", "Classic Salted", and "Thai Style Spicy Chicken" in Tk 10, Tk 15, Tk 25, Tk 50, and Tk 75 packs.