HungryNaki is going green and fully electric by end of 2019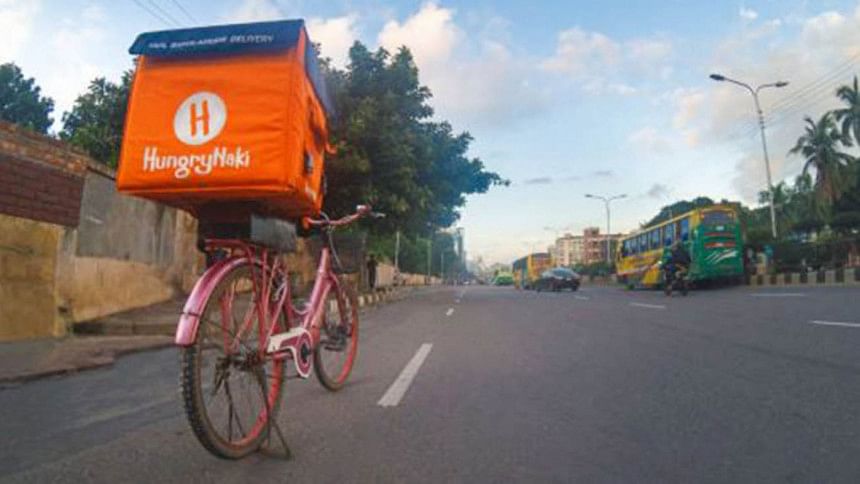 The first on-demand online food delivery company of Bangladesh 'HungryNaki' is completely changing its delivery fleet to clean, eco-friendly electric vehicles to deliver food to its customers.
By the end of 2019, HungryNaki will change 200 plus of its motorcycles to electric bicycles and install solar charging stations at its local hub offices, a press release said.
It will discontinue all petrol-driven motorcycles in order to eliminate the company's carbon footprint. By 2020, they will deploy an additional 500 such vehicles to support the growing demand for food deliveries.
Since its inception in 2013, HungryNaki has been serving 500,000 plus customers across Dhaka, Chittagong, Sylhet, Cox's Bazar, and Narayanganj through its network of over 4,000 restaurants in these cities.
The company management has identified that delivery operations such as their's generate a significant amount of carbon emissions from motorcycles as the company grows every year.
These observations lead to the planning for achieving zero carbon emissions from their operations, and this announcement is the first step towards that goal. And they are the first company among all the food delivery companies in Bangladesh to take this kind of initiative.
Ibrahim Bin Mohiuddin, the Deputy CEO of HungryNaki said, "The food delivery market in the country is growing rapidly, and HungryNaki is growing bigger year to year, so if we do not take proper measures now, then our carbon emissions will not go down further, rather it will increase in the future. Moreover, we are not only going to become more energy-efficient and environmentally friendly, but we have been able to make significant progress in ensuring faster delivery time, better food quality and increased comfort for our delivery agents."
In partnership with local electric vehicle manufacturer Advanced Dynamics, they have tested their electric bicycles on several routes in different cities of Bangladesh.
They have already launched these electric bicycles in a couple of delivery zones inside Dhaka.
Tauseef Anwar, Chief Business Officer of Advanced Dynamics, said, "By going electric, HungryNaki is taking a bold step and will make significant contributions in meeting the SDG 13: Climate Action goals by de-carbonizing its core operations."
Ibrahim gave his final remarks about the announcement saying – "We strongly believe that protection of the environment will be very crucial to the future of the entire world, so saving the environment is actually a cumulative effort of businesses, individuals, and governments, and this decision is our small contribution in that effort."