Govt to issue landownership certificate to curb tax evasion
Land minister says at CPD event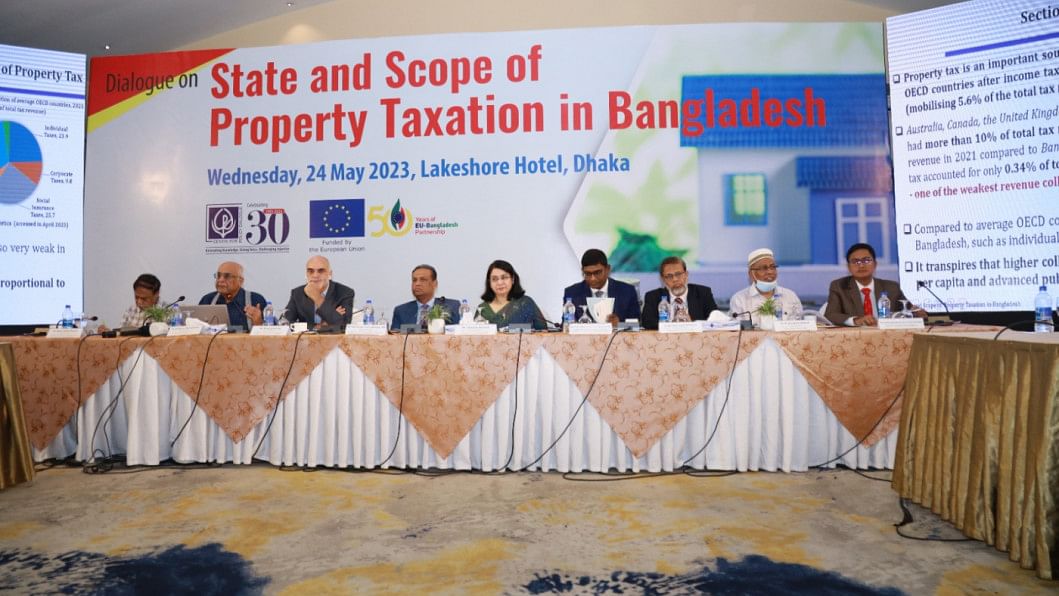 The government is building a database to ascertain the ownership of any land located anywhere in the country to curb tax evasion, Land Minister Saifuzzaman Chowdhury said today.
"We are working to create a land bank. We are going to introduce a system of Land Ownership Certificate (CLO). We will issue smart card where total information of land ownership will come to the database," he said at a dialogue on 'State and scope of property taxation in Bangladesh' at Lakeshore Hotel in Dhaka.
The Centre for Policy Dialogue (CPD) organised the event to discuss the findings of a study, supported by European Union (EU), "on the limitations and opportunities for collecting property taxes in Bangladesh".
Sharing the findings, CPD Distinguished Fellow Debapriya Bhattacharya said property tax obtained from land tax and stamp duty has been constantly declining for the last five years and have been only about 5 per cent of total direct tax in the last three years.
Property tax as a share of total tax revenue and gross domestic product (GDP) has been one of the lowest in Bangladesh among selected countries in Asia, Africa and the Organisation for Economic Co-operation and Development (OECD) over the last 5 years irrespective of the effect of Covid-19.
In Bangladesh, property tax is only about 0.27 per cent of the GDP, close to the average of African countries, said Bhattacharya.
The land minister said many people want to walk in the grey area to avoid tax on land.
Many people show non-agricultural land as farm land to evade paying higher tax on non-agricultural land, he said.
The CLO will be helpful to curb the practice, he added.
"All the land you own in Bangladesh will come in the CLO," he said.
The land ministry is also preparing land zoning map to demarcate nature of land and their use, the minister said.
Once it is done, the scope of avoiding tax will not be there, he added.
Chaired by CPD Executive Director Fahmida Khatun, Head of Cooperation and Delegation of the European Union to Bangladesh Maurizio Cian, Lawmaker Barrister Shameem Haider Patwary, Former Chairmen of National Board of Revenue (NBR) Nasiruddin Ahmed, Muhammad Abdul Mazid, Executive Director of the Policy Research Institute of Bangladesh (PRI) of Bangladesh Ahsan H Mansur and Partner of Snehasish Mahmud & Co Snehasish Barua also spoke.