Foreign companies control Tk 200cr maize seed market
Farmers are shifting to maize cultivation because of low prices of paddy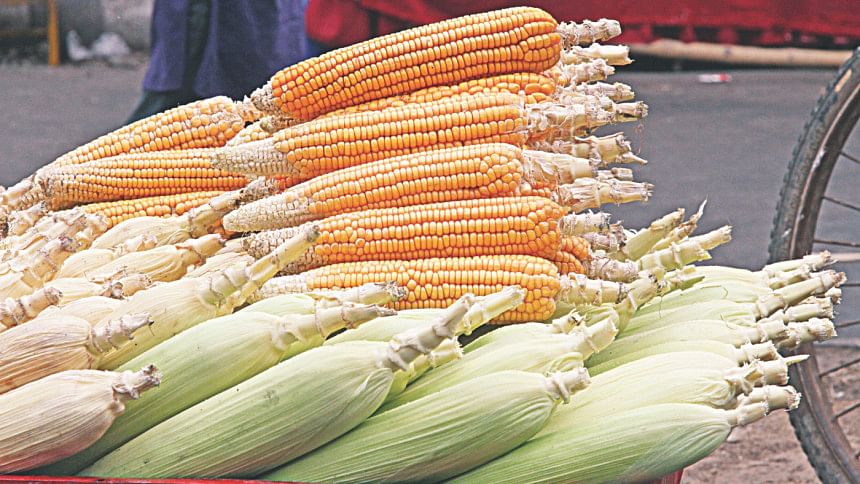 An expansion in the cultivation of maize has created a vibrant market worth more than Tk 200 crore for its seed that is captured almost exclusively by foreign firms in the absence of adequate good quality seeds developed locally. 
Monsanto, a subsidiary of German Bayer CropScience, is the market leader in Bangladesh's hybrid maize seed market, where other multinationals Advanta, Pioneer, Syngenta and Indian firms such as Kaveri are formidable players.
"Farmers' needs are changing with time and multinational companies are trying to fulfil that requirement," said Mostafa Kamal, country manager of Monsanto. 
Introduced in the 1980s in the cropping pattern, cultivation of the cereal gradually gained momentum from the beginning of the 21st century, driven by demand from poultry industry for feed.
The Bangladesh Bureau of Statistics (BBS) estimated that 10,000 tonnes of maize was grown on 12,000 acres in fiscal 2000-01. In 2017-18 acreage soared to 9.90 lakh acres and output 32.88 lakh tonnes, making maize the second biggest cereal crop replacing wheat.
The increased plantation also buoyed sales and imports of maize seed, which sell at Tk 400-Tk 580 a kilogramme, to 6,654 tonnes in fiscal 2018-19 from 3,115 tonnes in 2009-10.
And industry insiders expect the market would grow as much as 10 percent this year as more farmers will shift to maize cultivation thanks to the unusually low prices of the staple crop paddy.
Estimates regarding the market size of maize varies among market players, but import data compiled by the Plant Quarantine Wing (PQW) of the Department of Agricultural Extension showed that 6,600 tonnes of seed was imported annually in the last three fiscal years.
Md Amiruzzaman, chief scientific officer and head of maize breeding of Bangladesh Agricultural Research Institute (BARI), said the state research agency has developed 17 hybrid varieties of maize seed, and roughly 40 tonnes of locally developed seeds were multiplied by the Bangladesh Agricultural Development Corporation (BADC).
At present, BARI hybrid maize-9 is a popular variety among farmers and the agency last released a dwarf and lodging tolerant variety BARI hybrid maize-16.
"It is a breakthrough. We expect this seed variety will become popular if it is multiplied and marketed properly," he said, adding that the BADC and local companies would soon step up and break the monopoly of foreign firms.
Another reason for the popularity of maize is its higher yield at lesser irrigation compared to rice, said Sudhir Chandra Nath, business director of ACI Seed.
"It does not require intensive care." 
The market has been growing in the last 2-3 years, as paddy does not bring farmers much profit, Nath said, adding that the maize seed market would grow to 7,000 tonnes in the coming plantation season. 
"We see keen interest among traders to sell maize seed this year as the prices of paddy are low," said Salim Ansary, assistant manager of Petrochem (Bangladesh).
Maize costs Tk 18 per kilogramme whereas the prices of paddy hover at Tk 13-15.
Ansary expects the growth of poultry industry would drive cultivation of maize and subsequently the seed market.
The demand for maize will increase to 80 lakh tonnes in five to six years' time because of industrial processing of corn flakes and other foods for human consumption, said Md Israil Hossain, director general of the Bangladesh Wheat and Maize Research Institute (BWMRI).
The BWMRI has taken an initiative to increase the industrial use of maize.
Kamal of Monsanto said the maize seed market has been vibrant but it was not expanding constantly every year as farmers were not getting fair prices on many occasions.
"The import of maize demotivates farmers. The market would be more vibrant if government pays attention to ensuring fair prices for farmers," he added.
In fiscal 2018-19, Bangladesh's maize import was 12.44 lakh tonnes, according to the PQW data.