Festivals boost online sales in February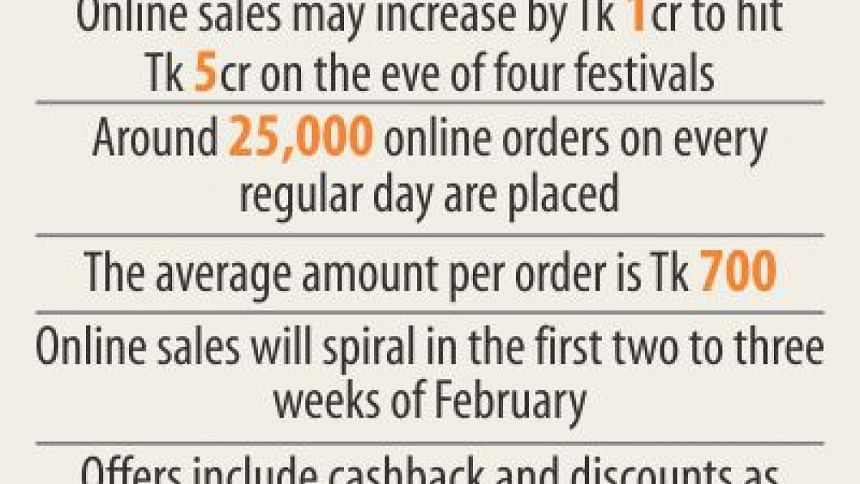 Online sales will see a 30 percent rise in February on the occasion of four successive festivals, namely Saraswati Puja, Pahela Falgun, Valentine's Day and International Mother Language Day, industry insiders said.
On an average, around Tk 3 crore to Tk 4 crore worth of products are sold online every day, said Ashish Chakraborty, chief operating officer of SSL Wireless, a digital commerce market research firm.
"The sales may go up by another Tk 1 crore, thanks to the festivals."
He said e-commerce slows down in January but it picks up from the beginning of February. "We are observing the same trend this year as well," he told The Daily Star.
Nearly 25,000 online orders a day were placed in the last few months and 3,000 of the orders were carried out online or through digital financial services, Chakraborty added. "The number will rise in the first two to three weeks of February."
The average amount per order is Tk 700, according to an analysis of SSL.
On the backdrop of the festivals, the demand for mostly fashionable products and gift items increases, prompting e-commerce platforms to offer discounts and cashback along with free delivery.
AKM Fahim Mashroor, founder of ajkerdeal.com, one of the leading local e-commerce ventures, said his company has come up with a "combo" offer for couples.
Under the offer, the couples can use matching designed products like t-shirts, wrist watches, saris and panjabis along with different kinds of gift items, he said.
"These products accelerate the growth of our business. The orders for black and white clothes and products will spiral from the second week onwards," said Mashroor, also a former president of Bangladesh Association of Software and Information Services.
Ajkerdeal is offering 20 percent cashback on payments made through mobile financial service provider bKash and is expecting 30 percent sales growth in February.
"We are offering discounts on a wide range of products on the eve of Pahela Falgun and Valentine's Day," said Mirajul Huq, CEO of bagdoom.com, another e-commerce venture. "Not only on saris, panjabis and gift items, we are offering price cuts on mobile phones, home appliances and bikes also."
"I believe an occasion provides an opportunity to go on a shopping spree, whether someone buys something for their loved ones or for themselves," said Huq.
As the cashback partner of bagdoom.com for Valentine's Day, Eastern Bank is offering 10 percent discount for its cardholders on every online purchase.  Similarly, cardholders of LankaBangla will get 14 percent off, accountholders of bKash will get 20 percent off and Grameenphone Star customers will get 12 percent off.
Daraz Bangladesh has organised a Valentine's Day campaign for the fourth time. One of its events began on the first day of February, which will end on February 14. The company is offering discounts as high as 70 percent.
Daraz is offering 20 percent additional cashback for payments made through bKash, 14 percent on transaction through LankaBangla Visa credit card, up to 10 percent discount for credit cards of City Bank and Southeast Bank, the e-commerce firm said.
It will organise a raffle draw and offer candle light dinner at the Westin Dhaka hotel and give out various gifts.
According to SSL, there are now about 29,000 Facebook pages in Bangladesh that market products online.
Of them, 1,500 are actively participating in commercial activities. There are 2,500 more dedicated web portals, 400 to 500 of which are active.
The research firm is expecting the online market size to be about Tk 1,700 crore in 2019 from about Tk 1,000 crore last year. Various festivals will play a bigger role to expand the market size, according to SSL.