Egg producers cracking under pressure of demand slump and high production cost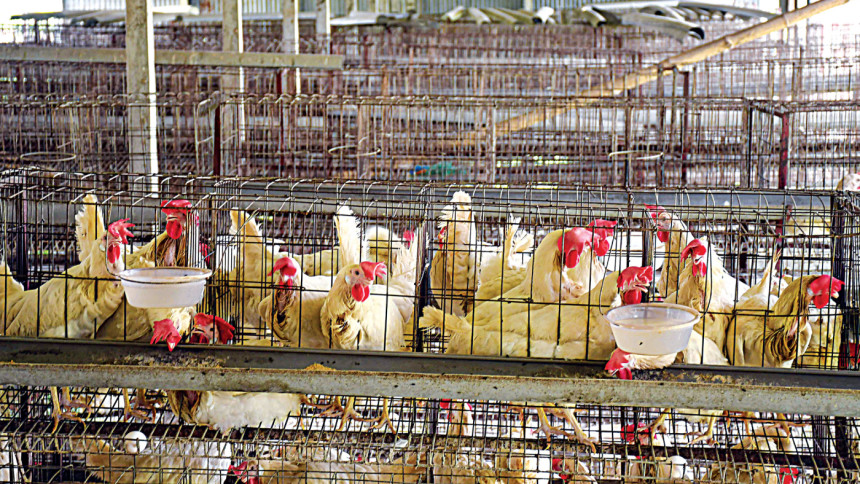 Eggs producers in Bangladesh have been counting huge losses due to the decline in retail prices of the protein because of the demand collapse amid the coronavirus-induced countrywide shutdown and higher production cost. 
On the other hand, the price of feed for chickens is high, adding another burden for the poultry farmers. 
The poultry farms in several parts of the country, especially in Savar and Manikganj, have been spending around Tk 5.5 for producing an egg since the middle of March, which is higher than the wholesale rate of Tk 4.1 to Tk 4.5 a piece.
Now, retailers buy each egg at Tk 5 and sell at Tk 6.5-8.
Yesterday, eggs were selling at Tk 26-28 per four pieces in Dhaka, down 12.90 per cent from a year ago, according to data from state-run Trading Corporation of Bangladesh. 
Only farmers are bearing the brunt of the falling prices as the retail prices of egg have remained almost unchanged despite the virus pandemic and the lockdown, growers say.
Wholesalers say the falling egg prices at the growers' end are down to oversupply, the coronavirus pandemic and the thin presence of customers.
The price of egg began to slide at the beginning of 2020 after new entrepreneurs entered the sector and many old entrepreneurs who had stopped farming due to losses in 2017-2018 returned, said Mahmudul Hasan, an egg wholesaler in Savar.
Firoz Mia, a poultry farmer in Dhamrai, had 10,000 chickens in his farm and produced 9,000 eggs each day.
He was compelled to sell 6,000 chickens at a poor price a month ago due to the fall in the egg price.
Now, he has 4,000 chickens and produces 3,800 eggs every day on an average, counting a loss of Tk 2,000 to Tk 2,200 per day.         
"The falling egg prices have hit me badly as well as other farmers in my area," said Mia, adding that farmers who started farming after taking loans are in big trouble.
He is now praying for a rebound in egg prices and subsidy from the government.
Humayon Kabir, a poultry farmer in Manikganj's Daulatpur, echoed the same.
After incurring huge losses Kabir had quit the trade only to return in January 2019 by selling a piece of land and borrowing from a lender.
"All was going well until the coronavirus hit. I have again fallen in great difficulty as the price of eggs is falling whereas the price of poultry feed and medicine is going up."
He is counting Tk 2,000 in loss each day. "If the situation persists for a long time, I will have to shut my farm again," he added.
Poultry farmers are facing losses due to the coronavirus outbreak, said Saidur Rahman, upazila livestock officer in Dhamrai, adding that his office collecting the list of farmers who are facing the losses.