Daraz to invest Tk 1,000 crore in Bangladesh in 4 years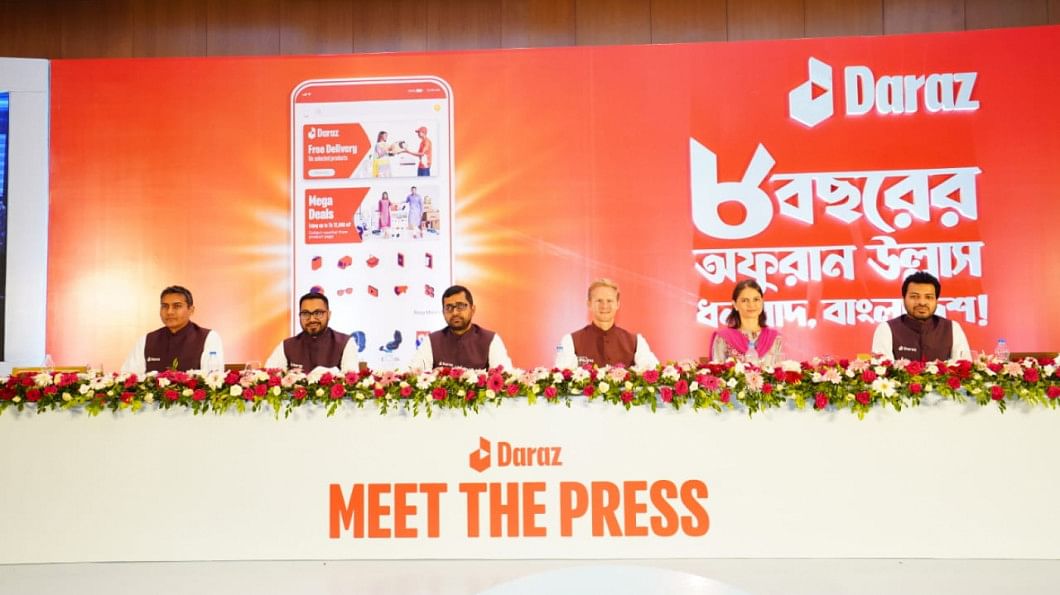 Daraz intends to invest Tk 1,000 crore in Bangladesh in the next 3-4 years to ramp up its operation by building infrastructure and ecosystem, the Alibaba Group-backed e-commerce venture said today.
Bjarke Mikkelsen, founder & group chief executive officer of Daraz Group, announced the plan marking the e-commerce company's eight years of operation in Bangladesh.
In 2014, Daraz began its journey in Bangladesh with just five employees and a website.
Today, the e-commerce platform has 7 million customers, 41,000 sellers and numerous partners and stakeholders.
The disclosure comes at a time when 1,800 e-commerce platforms are operating in Bangladesh to feed the growing demand for online shopping for convenience and save time.
Industry operators said annually nearly Tk 7,000 crore worth of products are sold through e-commerce firms in Bangladesh.
"With over 50,000 seller partners, we have expanded the horizon for e-commerce ventures across the country and enabled businesses while transforming consumer behaviours. The acquisition by Alibaba played a major role behind this strength of ours," said Syed Mostahidal Hoq, managing director of Daraz Bangladesh, at a celebration ceremony at InterContinental in Dhaka today.
Md Tajdin Hassan, chief marketing officer of Daraz Bangladesh, said prospect of e-commerce is sky high in Bangladesh compared most other Asian nations.
"Currently, the e-commerce sector in Bangladesh comprises only 1-2 per cent share of the country's retail sales. For the last seven years, Daraz has been educating the market to influence consumer behaviour to expand the e-commerce services around the nation and contribute to the economy."
Wholesale and retail trade accounts for 15 per cent of Bangladesh's gross domestic product of $465 billion estimated in 2021-22 the fiscal year, according to data of the Bangladesh Bureau of Statistics.
Top brasses of Daraz, including Md Riyad Hossain, chief human resource officer; Zornica Zafirova, group COO; Tasfin Alam Khondoker, chief operating officer; AHM Hasinul Quddus Rusho, chief corporate affairs officer, and Shabbir Hossain, chief commercial officer, were also present at the event.