Join work tomorrow or factories will be shut: BGMEA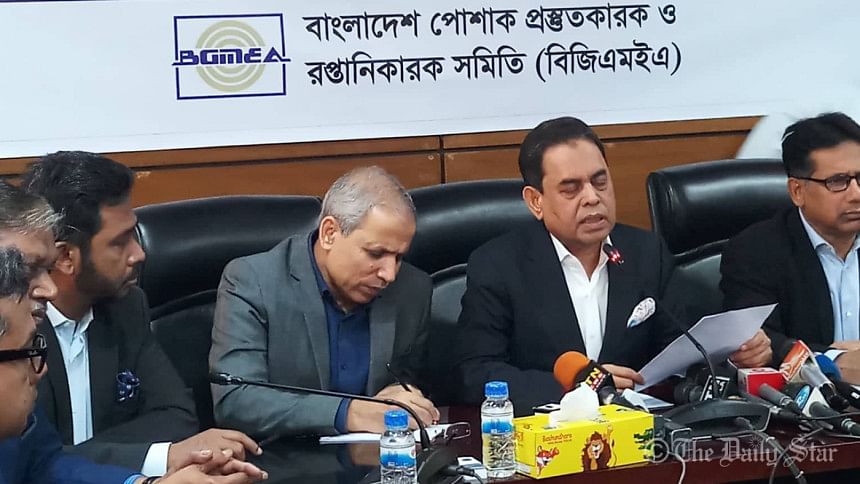 All garment factories in the country will be kept shut for an indefinite period if the protesting workers do not return to their workplaces by tomorrow, the president of Bangladesh Garment Manufacturers and Exporters Association (BGMEA) said today.
Under Article 13/1 of the Labour Act, the BGMEA will take such action, the association's President Siddiqur Rahman told journalists at an emergency briefing in Dhaka.
"No work, no pay," Siddiqur Rahman added.
The BGMEA today called the emergency press conference over the ongoing labour unrest.
The conference was held around 12:30pm to brief media on the production loss, the challenges in shipment, number of factories that are closed and other issues.
Meanwhile, another meeting is scheduled at the labour ministry with members of the 20-member crisis management committee this afternoon.
The government is expected to announce a revised wage structure for apparel workers of grades 3, 4 and 5, in an effort to quell the labour unrest that has affected production in the country's largest forex-earning sector.
Readymade garments workers continued their demonstration for the eighth day today with a break on Friday. The protest began on January 6 over the wage gap.
Even today, at least 10 people were injured when police charged batons and used water cannons to disperse workers, who blocked the Dhaka-Tangail highway in Ashulia this morning protesting the disparity in their new wage structure.
WHY WERE THE RMG WORKERS PROTESTING?
In September last year, the government raised the minimum monthly wage for RMG workers by around 51 percent to Tk 8,000 from Tk 5,300. The new wage took effect in December.
But when workers drew their pay in January, they found a huge disparity, triggering the agitation.
On the third day of the protest, the government assured the workers of addressing the discrimination in a month. The workers, however, refused to leave the streets.
WHAT DID THE TRIPARTITE BODY SAY ABOUT THE WAGE STRUCTURE?
The tripartite committee formed to resolve the labour unrest in garment industry has found disparity in three grades of the workers' pay structure, and has started working to minimise the wage gap that sparked the protests five days ago. 
The 10-member committee with representatives from the government, union leaders and factory owners said disparity was found in grades three, four and five.