BASIS signs ICT deal with Japanese association
The MoU was signed at the Trade and Investment Summit in Japan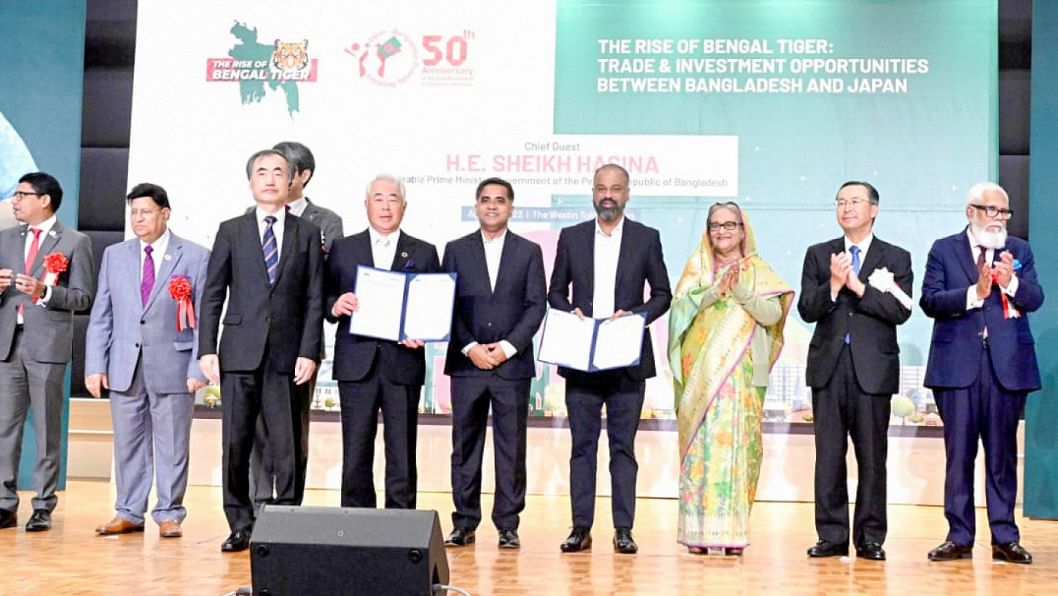 The Bangladesh Association of Software and Information Services (BASIS) has signed a memorandum of understanding with Japan Information Technology Services Industry Association (JISA) to increase collaboration and give a boost to the local ICT sector.
Russell T Ahmed, president of BASIS, and Takashi Hara, chairman of JISA, exchanged the signed documents of the deal at 'The Trade and Investment Summit' in Japan.
Prime Minister Sheikh Hasina attended the summit as the chief guest.
"This industry to industry collaboration will help local ICT firms expand their business to Japan more easily," Ahmed told The Daily Star from Japan.
"As Japan has over half a million human resources shortage, the local IT industry can now fill up the gap with skilled manpower," he added.
He said BASIS members have been working to expand trade in the IT sector with Japan since 2015 and now exports over $120 million ICT services to Japan annually.
Ahmed delivered a speech and gave a presentation on the Bangladesh ICT industry, highlighting its capabilities, successes, prospects and incentives offered by the government to foreign investors at the summit. 
He urged Japanese businessmen to invest in Bangladesh's ICT sector.
"ICT skills of the young generation of Bangladesh can play an important role in ensuring mutual trade benefits in the development of both the countries."
The Bangladesh Securities and Exchange Commission and Bangladesh Investment Development Authority in collaboration with the Japan External Trade Organisation and the Japan-Bangladesh Committee for Commercial and Economic Co-operation organized the summit.
The event highlighted the immense potential for economic cooperation between the two countries.
Salman F Rahman, private industry and investment adviser to the prime minister; Takeshi MIYAMOTO, president of JISA, and Abu Daud Khan, a vice president of the BASIS, were present.