a2i, Zaytoon to launch 'village digital booths'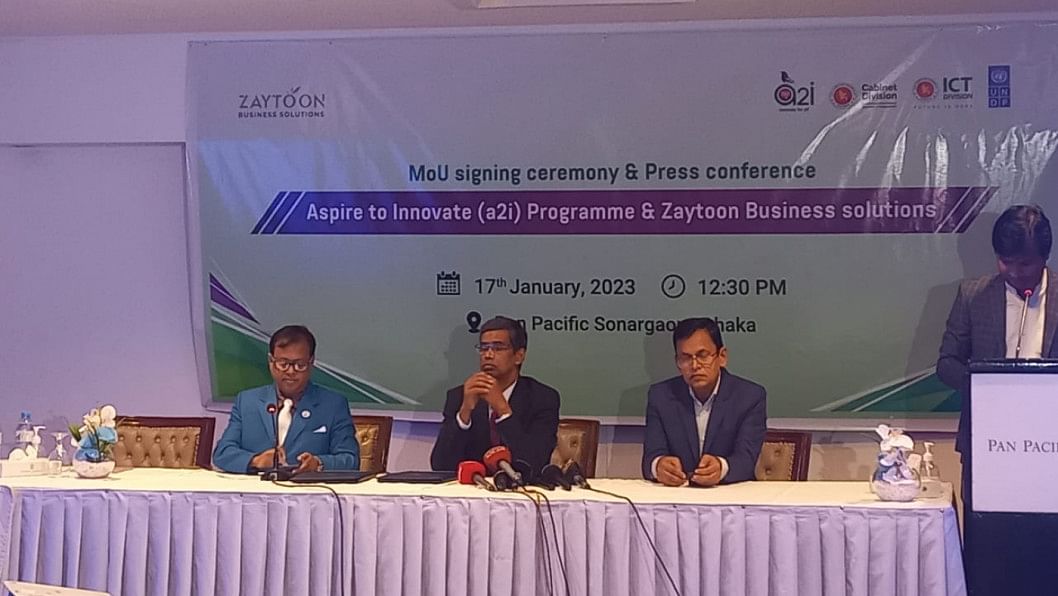 The Aspire to Innovate (a2i) programme of ICT Division and Zaytoon Business Solutions today joined hands to launch "village digital booths" across the country, enabling marginalised people to avail a number of financial services right from their neighbourhoods.
Each booth will be managed by a local entrepreneur under the overall management of the Zaytoon while the a2i's payment aggregator platform "EkPay" will provide technical and overall support.
The booths will effectively be rural financial service centres from where various types of e-services will be ensured.
Financial services of all types of public and private institutions, allowances under social security programmes, telemedicine, e-ticketing services etc can be availed while payments made of bills of government services and fees of educational institutions.
Md Arfan Ali, chairman of Zaytoon Business Solutions, and Dewan Muhammad Humayun Kabir, project director for the a2i, signed an agreement in this regard today at an event at the Sonargaon hotel in Dhaka.
"There will be cash-in, cash-out service of banks, credit card, debit card, QR code reading machines in the booth and the customers of the banks will be able to conduct transactions on a limited basis," said Ali.
The entrepreneurs will be able to provide e-commerce services, small-scale remittance services and insurance services, he said.
"Through this digital booth, all banking services can be availed, but on a limited scale. There will be a limit to transactions," he said.
Ali, who pioneered and popularised agent banking services in Bangladesh while he was the managing director of Bank Asia, hoped for the service to gain popularity.
"All banks connected with the a2i's EkPay can provide services to customers. General people will not have to leave their village to avail banking services," he added.
He said no one entity can be profitable setting up multiple agents in a village. "Such a system is available in many country…where an agent can provide the service of different banks," said Ali.
"The agent will be able to run a shop or any other type of business in addition to providing the financial services. This is how he can become an entrepreneur and sustain his business," he said.
A pilot project will be taken up later this month in 50 villages of Munshiganj this year. The booths will be set up in every district by March on a limited scale.
"Since there are about 90,000 villages in Bangladesh, it will take some time for a complete rollout," said Ali.
"Union digital centres will work as the back office of the booths. An entrepreneur has to invest a maximum Tk 20,000 for devices to complete the transactions," he said.
"Our experience is that if an agent invests, he becomes an entrepreneur and develops an ownership. So, the success rate increases greatly," he said.
The Zaytoon will carry out the branding, training of agents and develop the system for the village digital booths, he added.