5G rollout by 2021
Jabbar says as BASIS SoftExpo ends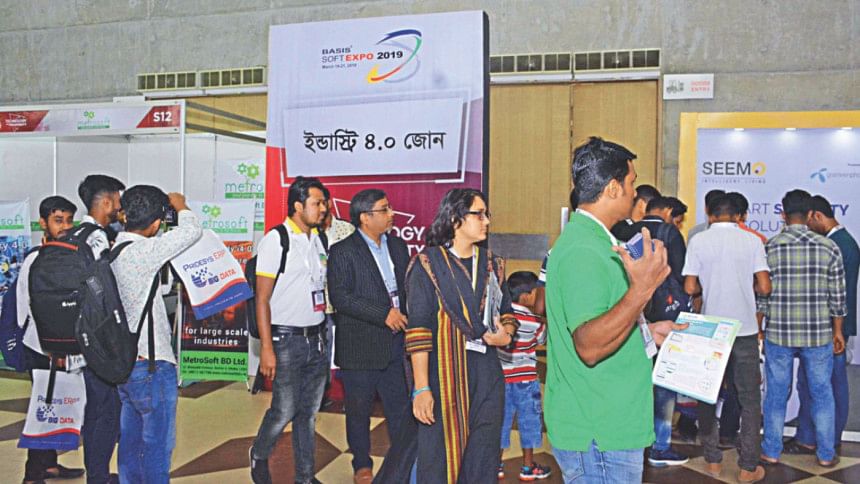 Customers' appetite for data is expanding every year, compelling mobile operators to increase their capacity and invest huge amounts of money in it, said experts and representatives from mobile operators and vendors yesterday.
On an average, local data users are consuming 1.2 gigabytes of data in a month and by 2022 it will cross 11 gigabytes, said Abdus Salam, country manager of Ericsson Bangladesh, a telecom equipment vendor.
"And we need to prepare for that."
Salam's comments came in a discussion styled "5G - New Era Transforming Our Lives, Society and Industries" on the final day of the 15th edition of BASIS SoftExpo, currently taking place at International Convention City Bashundhara.
Telecom and ICT Minister Mustafa Jabbar joined the discussions through a voice call.
The government is expecting to roll out 5G services on December 16, 2021.
"We are very much aware of the consumers' demand and that's why we have fixed the date for 5G," he added.
Bangladesh Telecommunication Regulatory Commissioner Md Aminul Hassan said they have started taking preparation for 5G and are already meeting with mobile operators about their requirements for it.
From the operators' side there is no business case for 5G, said Mahtab Uddin Ahmed, chief executive officer and managing director of Robi.
"We are in a very critical position in 4G as only 20 percent are using this fastest data network."
Getting compatible devices in the hands of customers is a challenge due to the high taxes.
"I am quite sure under this fibre network 5G will not work. So mobile operators need to be allowed to maintain their own fibre," Ahmed added.
Rade Kavcevic, chief technology officer of Grameenphone, also took part in the discussion where he also pointed out the challenges in running the data network.
TIM Nurul Kabir, former secretary general of the Association of Mobile Telecom Operators of Bangladesh (Amtob), moderated the session, where two keynote papers were presented by Rahul Shah, director of Asia Pacific of GSMA, and Zhang Zhengjun (Jun), CEO of Huawei Technologies (Bangladesh).
More than 100 local and foreign speakers shared their thoughts in different sessions during the three-day BASIS SoftExpo.
About 250 local and international companies demonstrated their products and services at the exposition, which bore the theme "Technology for Prosperity".