Invest more in people to fight future woes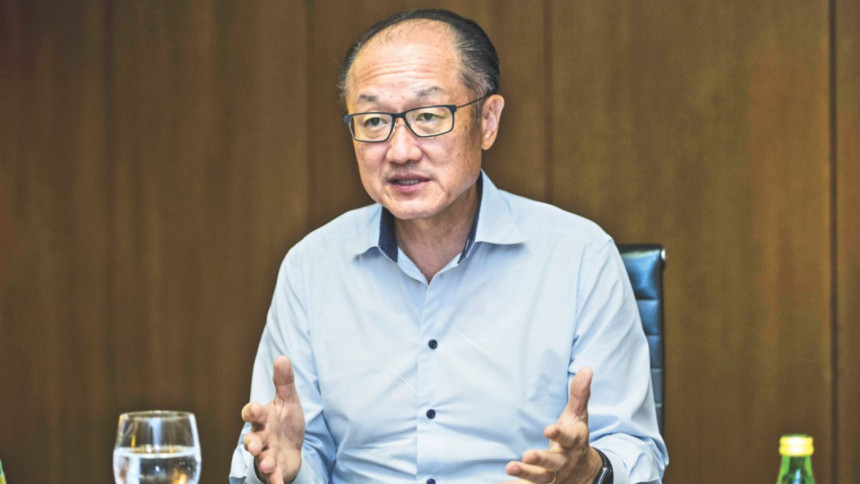 World Bank Group President Jim Yong Kim was in Bangladesh from June 30 on a three-day visit. During his visit he talked to The Daily Star's Diplomatic Correspondent Rezaul Karim exclusively on a wide range of issues, including Bangladesh's need to prepare for the economy of tomorrow, improve business environment, invest more in human capital and think seriously about automation in shaping the path of economic development. He also touched upon the WB's development assistance, the ongoing Rohingya crisis, its grants to support the Rohingyas and the host community, multilateralism and trade war. Following are excerpts from the interview.
Question: Amid the trade war between the US and other countries, how do you see the future of multilateralism? What impact would it have on the global economy and global order? Will the World Bank play any role to protect the multilateral system?
Answer: Let me take the multilateral system first. The post-World War II, the world order has had a tremendous record. If you remember before 1944, there were wars between countries and Europe. There were world wars breaking out. So, while there were conflicts around the world, the post-1945 world order focused on bringing the multilateralism to a new level in order to help solve the most difficult global problems.
I think it has been a great success. There are many examples of when the multilateral system came together and solved problems in a country -- the country negotiating by itself couldn't have solved those problems. What I say is, if you take the multilateral system apart, you will very quickly learn that you would have to reinvent it.
There are deep flaws in the multilateral system and we all know that. But it's part of how you run an organisation, like mine, that has 189 governors – there are 189 member countries who are my bosses. So, the very act of making something happen with 189 bosses is an art in itself. But it is what makes us strong and great. It is what led to the recent capital increase and going to help us have a positive effect.
In terms of the trade war, there's not really of trade war yet. There is a lot of threats of tariffs. We, at the World Bank Group, based on history and evidence, believe very strongly in free and open trade. And the reason we believe in it so strongly is not ideological; it's based on evidence on what happens to poor countries when they engage in trade. When poor countries engage in trade, many good things happen.
Among them, skills level improves, especially if poor countries improve their business environment and have foreign direct investment. Foreign direct investment actually improves institutions in poor countries. And getting involved in trade helps grow the GDP, but there is also very strong evidence that getting more involved in trade helps the bottom 20 percent in developing countries.
There is really no way that we can envision the end of extreme poverty, which is our number one goal, or boosting shared prosperity, without more trade. So, we support fully the WTO. We've been helping put the WTO frameworks in place. And, we believe very, very strongly that from the perspective of poor countries and poor people, trade is extremely important.
If you, for example, envision the trade war, and all the countries ride up to the limit of WTO rules in terms of applying tariffs, the overall global economy would shrink by 9 percent. That's just if we go to the WTO limit. But if they go beyond the WTO limit, we don't know. Trade wars, again based not on ideology, but on evidence, could have a terrible negative effect on our clients – the developing countries.
Q: Bangladesh faces a new reality because it is becoming a lower middle-income country and shaking off the LDC status. What kind of development strategy should Bangladesh follow in the face of future challenges?
A: We admire tremendously what Bangladesh has accomplished. They have cut in half the rate of extreme poverty very quickly. So, there've been great lessons. We are in the process of creating something that we are calling the human capital index, which ranks countries from 1 to 180 or so based on their quality of investment in human capital.  Bangladesh is going to end up doing very well for the GDP per capita. In other words, for a poor country, they have done relatively well.
But also, Bangladesh is a developing country, and as outlined in the seventh five-year plan, Bangladesh is very well aware of the areas where it has to make progress. So, the things that I'm pointing out are not things that Bangladesh does not understand itself; it's all in the seventh five-year plan.
But, some of the things I want to point out that we are going to be helping Bangladesh with. They need to improve the business environment. India went up 30 places in the doing business index and it is because Prime Minister Modi asked us specifically to help them improve their business environment. It is already having a positive impact on the perception of businesses in the outside world – outside India. Bangladesh has some work to do in the business environment. But again, Prime Minister Sheikh Hasina has stated that she wants to do this… we are very happy to work with her on it. Again, it is something that Bangladesh is already aware of and we are happy to help.
Childhood stunting rate, or malnutrition at under 5, is higher than it should be, and it is a little bit surprising because Bangladesh does so well in other areas of health. So, improving the provision of health and education is something that is, again, priority for the Bangladeshi government and something we can look at.
But, let me then take the question of past economic growth. One of the great drivers of growth has been, for example, the garments industry.
There has been a recent Wall Street journal article about the use of robots in Bangladeshi garment factories and this is very interesting.  There's at least one company, and I think there are more, that brought something you call a sewbot... and they brought it from Germany. And it is beginning to replace the human hands in doing the work of the garment industry. Now, my guess is that in Bangladesh, the workers in the garment industry are so skilled, the labour-intensive garment factories will still be relevant for a while, but ultimately, I think it is likely that the robots will take over.
In Bangladesh, that industry is still very productive. But when I talk to African countries, many African countries are saying the Bangladeshi garment industry will come to Africa very soon. What I am telling them now is don't count on it. I have still not seen a single African garment factory that can reach higher than 65 percent of Bangladeshi efficiency.
I met experts from Bangladesh, all over Africa, who are helping these African garment factories. But right now, the only way these African garment factories stay in business is because there is the African Growth and Opportunity Act, which gives special access to the US market for African garment factories. It is the only way they stay competitive.
So, while I think the garment industry will persist in Bangladesh for a while, Bangladesh has to start thinking about disruptive technology and how it is going to impact jobs. And, this is not unique to Bangladesh. In fact, every country in the world has to rethink what the drivers of economic growth would be. There are some countries where there are many different potential drivers of economic growth. China is one example where their companies like Alibaba and Tencent have given much better access to capital and markets for many small and medium enterprises. There are also factories in Shenzhen, in China, that are completely automated and they are more automated, more run on artificial intelligence than any other region.
In the United States, innovation is so strong, and if that continues to drive the economy, then even in the US, they are asking the question: what will the low-skilled workers do? Will they be retrained to be computer programmers? Probably no. So, in many developed countries, they are talking about universal basic income, just assuming that many people won't have work to do, so just give them a basic income.
So, there's no specific prediction that I have for Bangladesh. My only recommendation is that like every other country in the world, Bangladesh has to start thinking very seriously now about how automation, innovation, artificial intelligence will affect the drivers of growth today. And, what does Bangladesh need to do to prepare for the economy of tomorrow? There are many different possibilities. We don't know what that would look like. Anybody who would tell you what the economy of tomorrow will look like... you shouldn't believe it. Nobody really knows, but you've got to start preparing now.
Investing more and more effectively in your people is one strategy that will be useful, no matter what. If you invest in reducing your childhood stunting rates, if you invest in early childhood education, if you invest in better outcomes in primary, secondary and tertiary education, if you invest more in basic healthcare... those are the things which will be useful to you, no matter what. Bangladesh has a great record in improving health and education. But there is more to do.
We are desperately, desperately looking all over the world to try help our clients understand what disruptive technology would do in terms of shaping the path of economic development. And the only answer that we can give them is start doing your own research, start exposing yourself to technology, think right now about the different directions that the economy can take.
Q: You have met Prime Minister Sheikh Hasina and the finance minister. What is the outcome and what is your observation about Bangladesh?
A: We have a saying in the US, put your money where your mouth is. And we've done that this year. I have been saying for a long time that Bangladesh's achievements in development are remarkable. This year we did a total of $3.05 billion of lending to Bangladesh, which is a record for us. And for the countries that receive funding from the IDA, it is the second largest amount in the world.
So, we spoke about many things, especially about the Rohingyas. We came to see the next steps in exactly the same way. We agreed that the first and the most important issue is to make sure that the Rohingyas are able to return, this is what they want, they want to return to their land of forefathers. They want to return to the land where their fathers, mothers and grandparents are buried. So, we completely agree that it is the first responsibility, the first priority. We should not take our eyes off that priority. We also agreed that there's more that we can do to support the Rohingyas while they are here. We just can't support the Rohingyas, we also have to support the host community.
So, we were in very strong agreement that our programmes should also support the people in Cox's Bazar who have literally opened their land and their homes to the Rohingyas. We also agreed that there's more and better ways for us to support the Rohingyas. You will be hearing about this over the next 6 months or so. We are thinking about how we can use the $480 million grant. How can we use that more effectively? We came out in very strong agreement about all those issues. Of course, we talked about the lending programme. The prime minister was very pleased that we had such a robust lending portfolio for Bangladesh this year.