India fast catching up with Bangladesh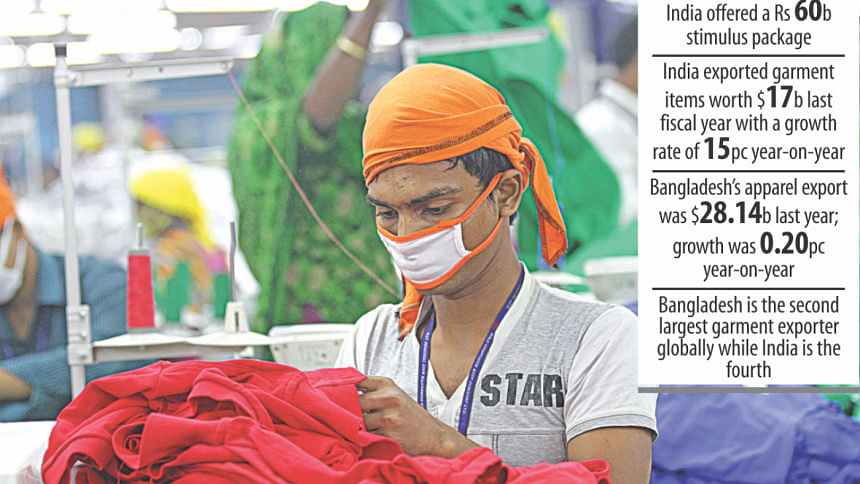 The Indian government's massive stimulus package of Rs 60 billion, or $894 million, for boosting its garment sector is bearing fruit as the neighbouring country is progressively eating into Bangladesh's share in global apparel trade.
For instance, India last year was the third biggest exporter of garment items to the US, which happens to be Bangladesh's single largest export destination.
In the first eight months of this year, India climbed up to the second spot, while Bangladesh slipped from the fourth position to the sixth, according to the US Department of Commerce.
"The rise of the Indian garment industry's competitiveness means we are losing our work orders to some extent," said Siddiqur Rahman, president of Bangladesh Garment Manufacturers and Exporters Association.
Thanks to the stimulus package, Indian manufacturers can offer lower prices and are fast catching up with their Bangladesh counterparts.
In 2016, India's share in the global apparel trade was 4 percent and Bangladesh's 6.4 percent, according to World Trade Organisation.
"Moreover, the Indian rupee has devalued a lot against the dollar," Rahman said.
India's apparel exports last fiscal year stood at $17 billion, up 15 percent year-on-year.
In contrast, Bangladesh, despite even being the second largest garment exporter after China, shipped items worth $28.14 billion, an increase of just 0.20 percent from a year earlier.
India's garment shipments are expected to grow between 15 percent and 18 percent this fiscal year to $20 billion, The Economic Times quoted Rahul Mehta, president of the Clothing Manufacturers Association of India, as saying.
The US market, which accounts for 30 percent of India's apparel export, is doing reasonably well, he said, adding that South America, Europe, Middle East and Japan also hold good export potential.
However, economists are not in favour of giving such direct stimulus package to the Bangladeshi garment industry as it is a matured sector now.
"The sector should learn to survive on its own," said Ahsan H Mansur, executive director of the Policy Research Institute of Bangladesh. Rather, the government should concentrate on bringing down the cost of doing business in Bangladesh, Mansur said, adding that the port, roads and highways should function efficiently.
For instance, the truck fare for carrying goods from Dhaka to the Chittagong port doubled to Tk 40,000 in recent times due to poor conditions of the roads and highways and traffic congestion, he said.
"We have many more challenges domestically that have been increasing the cost of doing business. We should remove those barriers to be more competitive amid the fierce competition globally," he added.
Due to being a least-developed country, Bangladesh enjoys duty benefit to the EU while Indian exporters face 12 percent duty.