Half of mobile money accounts inactive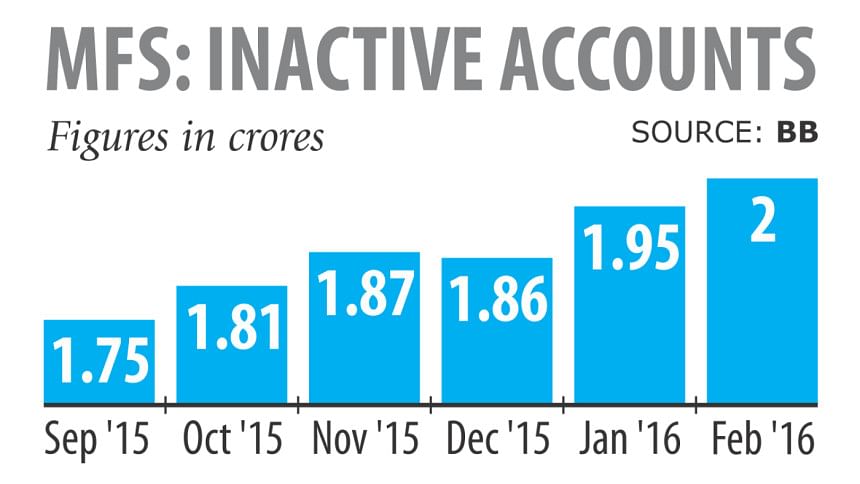 More than half of mobile money accounts have gone inactive, with the number rising every month, according to data from Bangladesh Bank.
In February, there were 3.39 crore registered MFS accounts, and 59 percent of them were inactive. In the same month last year, 57.18 percent of accounts were inactive.
Banks are unable to attract mobile wallet users. In most cases, the agents open the accounts as they get a commission, but users are not interested in these services, said industry insiders.
Agents usually get Tk 30-50 to open a new MFS account, according to Abul Kashem Md Shirin, deputy managing director of Dutch-Bangla Bank.
"A large number of users think they are not getting enough benefits from this service, and that's why they lost interest," Shirin said.
In Bangladesh, e-commerce and other related services do not have a strong footprint yet, although banks and other service providers are trying to increase the number of active accounts, he said.
By the central bank's definition, if any account does not register a transaction within 90 days, it will be categorised as inactive.
"The regulator wants to know the causes behind the falling numbers," said Subhankar Saha, executive director of Bangladesh Bank. The MFS sector has been flourishing in the last couple of years, with an increased volume of transactions every day; but the number of inactive accounts is also increasing.
The central bank is now thinking of increasing the limit of inactivity to 180 days from 90 days now, before classifying any account as inactive.
"An account holder may not feel an urgency to make a transaction through MFS in 90 days, but it doesn't mean that the account is inactive," said Saha.
Shirin suggested the regulator should put in place the dormancy policy as practised in the banking sector. If an account holder does not make transactions within one year, it should be classified as dormant.
Transactions through mobile phones rose 51.2 percent year-on-year to Tk 16,568.89 crore in February, on the back of increased economic activity, Bangladesh Bank said in a report. Monthly average transactions against every active account stood at Tk 11,833 in February from Tk 9,894 in the same month last year.