GSK looks to fortify its Bangladesh presence
Ramil Burden, vice-president of GlaxoSmithKline, says the company is reviewing manufacturing strategy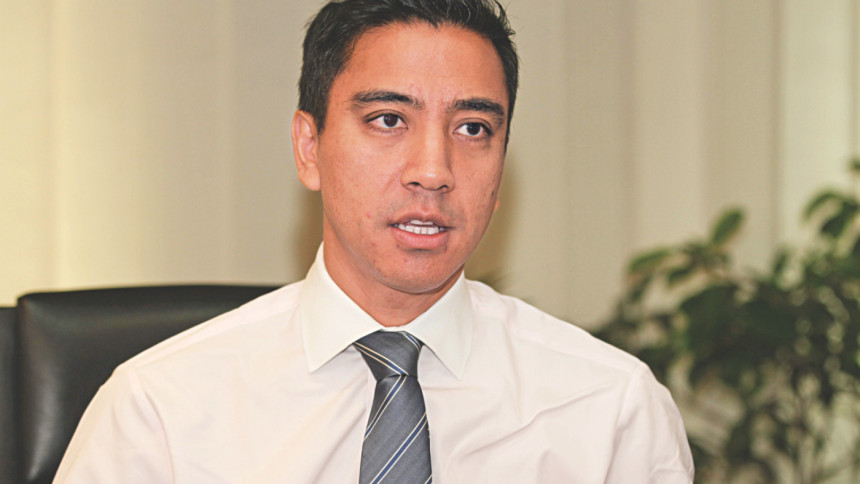 British pharmaceuticals giant GlaxoSmithKline looks to strengthen its presence in Bangladesh to ensure better and wider access to healthcare for the country's population, said a top official.
The drug maker is currently reviewing its long-term strategy for Bangladesh, said its Vice-President Ramil Burden.
"We are looking at the next five to ten years to find out what kind of company we want to be here and the kind of investment we want to make in the country."
"This is a very strong signal of how positive we are about Bangladesh," Burden told The Daily Star in an interview in Dhaka last week.
Britain's biggest drug maker is also reviewing its manufacturing strategy in Bangladesh.
Since 1967, the company has been producing drugs in its factory in Chittagong and investing over £1 million a year to upgrade the facilities.
"We will continue to invest in innovation in Bangladesh in line with the company policy, which ploughs about £4 billion a year into innovation, research and development."
GSK will also invest so people have increased access to these innovations, he said.
In Bangladesh, GSK has a 30 percent market share in the respiratory disease-related drugs segment and 3 percent in the overall pharmaceutical market. 
About the country's investment climate, the British national, who leads GSK's operations in Bangladesh, Myanmar, Cambodia, Laos and Papua New Guinea, said it could have been better if there was some political stability.
"But you know, in every country, there are always some ups and downs. Some countries have currency risks, some countries have political risks and also some other problems." 
Burden, 42, said the investors must have a long-term view as one cannot make long-term investment decisions based on some short-term currency or political problems.
Burden, who joined GSK in 2005, said Bangladesh's market offers tremendous growth opportunity for the company, as the per capita income is growing at a healthy pace, enabling people to seek better healthcare services.
"As a healthcare market, we're very positive about Bangladesh. We don't see Bangladesh as a massive profit market now, but we do see it as a place for investment in the long-term." 
He said many countries, including Bangladesh, face challenges as they do not have adequate frontline healthcare workers.
The company started investing 20 percent of its profits, or £900,000, in 2011 in a programme in Sunamganj in association with international non-government organisation Care and the health ministry to take healthcare to the district's population.  
The amount, which will rise to £1.6 million this year, is the contribution from the multinational firm to improve the quality of community healthcare workers in one of the poorest and most marginalised communities in Bangladesh.
"So, by investing in frontline healthcare workers, we are building capability and increasing health outcomes -- we are helping communities and mothers to access healthcare," said Burden.
GSK runs similar programmes in more than 30 countries, mostly in Africa. However, its programme in Bangladesh is the flagship one and the most successful.
So far, the project has trained 168 midwives who are the first point of contact in the hard-to-reach areas for any medical service. They are providing ante- and post-natal health service and are also working with the government's health departments to take public health care to them.   
The midwives are basically entrepreneurs, and for their services they are allowed to charge a fixed rate in line with the agreement with the government, he said.
"It is designed in this way to make the programme sustainable," Burden said, adding that the programme has reduced the attrition rate of midwives.
In the past, 50 percent of the trained midwives did not work as midwives even after they were trained to do so.
"In our programme, the rate has gone down to 7 percent. So, 93 percent of the people we train stay in the profession. More importantly, their productivity has gone up six-fold."
GSK plans to expand the programme to other parts of the country in the coming years. He said the reinvestment of profits is also laying the seeds of a successful business for GSK in the country.
"The key thing of the partnership is to show other multinational companies that it works and gives the value for money, so they also follow suit."
Laying emphasis on public-private partnership for better healthcare facilities in Bangladesh, Burden said: "It's absolutely crucial and essential."
In Bangladesh, GSK has joined the Save the Children to establish an academic chair at Brac University, as part of their five-year collaboration to help save the lives of one million of the world's most vulnerable children.
Burden said the academic chair will develop and deliver courses on non-governmental management.
The courses will be combined with practical, field work for students, interns, fellows, and researchers at Save the Children offices.
The academic collaboration aims to grow and support organisations in developing countries, especially those that are involved in the delivery of health services for people most in need.
Burden, who holds degrees in economics and mathematics from London, Kent and Portsmouth universities, said collaboration between the private sector, the NGOs and the government is crucial to achieving better health outcomes in the lower segment of the society faster.
"Through this strategy, we can make a difference in the healthcare."
Burden said the pharmaceutical companies also have a major role to play in helping achieve the countries' Sustainable Development Goals (SDGs), due to be announced later this year.
"We hope health remains one of the top goals in the SDGs. We have a lot to contribute in terms of intellectual capability and knowledge and experience."GSK Bangladesh's portfolio includes both pharmaceutical products and consumer products.
Its consumer brands are the major players in the health food drink category. The powerful portfolio includes Horlicks, Boost, Maltova and Viva.