Govt to go for third submarine cable
Robi tests VoLTE service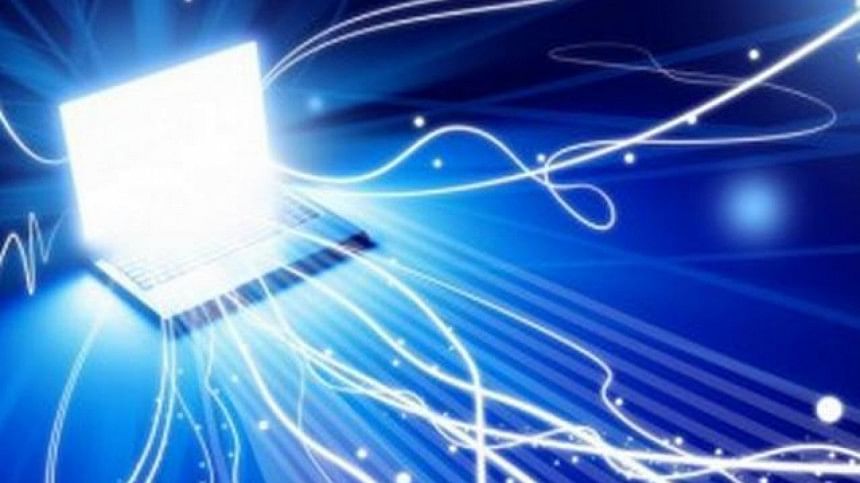 The government has decided to connect Bangladesh with a third submarine cable to meet the demand for rapidly growing data consumption, Telecom and ICT Minister Mustafa Jabbar said yesterday.
"More and more new technologies are hitting the market, fuelling the growth of data consumption," he said.
"We have decided in principle that we will go for a third submarine cable."
The minister disclosed the plan while speaking at the trial run of Robi Axiata's voice over long-term evolution (VoLTE) service at the second largest telecom operator's office in Dhaka.
Industry insiders attributed the growth of internet bandwidth consumption—which now stands at 950 gigabits per second (Gbps), up from 550 Gbps a year ago—to the roll out of 4G services in the country.
"The growth rate is flying, so our total capacity will be exhausted within next year. So, it will not be possible for us to supply required bandwidth unless an alternative source of internet is developed," the minister said.
Bangladesh wants to be a part of the initiative taken by a new consortium to lay an undersea cable within a short time from Singapore, he said.
Bangladesh got connected with the first undersea cable South East Asia–Middle East–Western Europe 4 (SEA-ME-WE 4) in 2006 and with the second one SEA-ME-WE 5 in 2017.
At the beginning of 2018, the government had asked state-run Bangladesh Submarine Cable Company Ltd (BSCCL) to take effort to establish connections with the third undersea link.
The company contacted with several consortiums and has come to know about the SEA-ME-WE-6 recently.
Another reason for looking for another submarine cable is that the first cable is nearing its 20-year lifespan, said an official of BSCCL.
"It is not possible to expand the capacity of the first undersea cable much and its maintenance cost is also increasing every year." BSCCL had spent about Tk 500 crore for the first cable and earned more than what it spent.
The second cable cost the country Tk 660.64 crore and the Jeddah-based Islamic Development Bank lent $44 million for the project.  In the early 1990s, Bangladesh had rejected a proposal for free connection with the SEA-ME-WE-3.
ROBI tests VoLTE service
Robi conducted a non-commercial trial run of VoLTE technology, becoming the country's first operator to complete preparation for the voice service on its 4G network.
At the event, the telecom minister made a phone call using the VoLTE network and talked with Md Jahurul Haque, acting chairman of the Bangladesh Telecommunication Regulatory Commission.
Mahtab Uddin Ahmed, chief executive officer and managing director of Robi, was also present.
Robi officials said VoLTE service would enable customers to make high definition voice calls with faster call setup time.
Mobile phone users can avail both voice and data services through VoLTE, which treats voice as just another application that rides on LTE data network.
Robi's 4.5G subscribers will be able to enjoy superior voice quality as soon as the rest of the eco-system is ready to offer the VoLTE service on a commercial basis.
There will be no additional data charges for VoLTE and calls will be charged as per existing plan or pack benefits, Robi officials said.