External debt repayment to double in 3yrs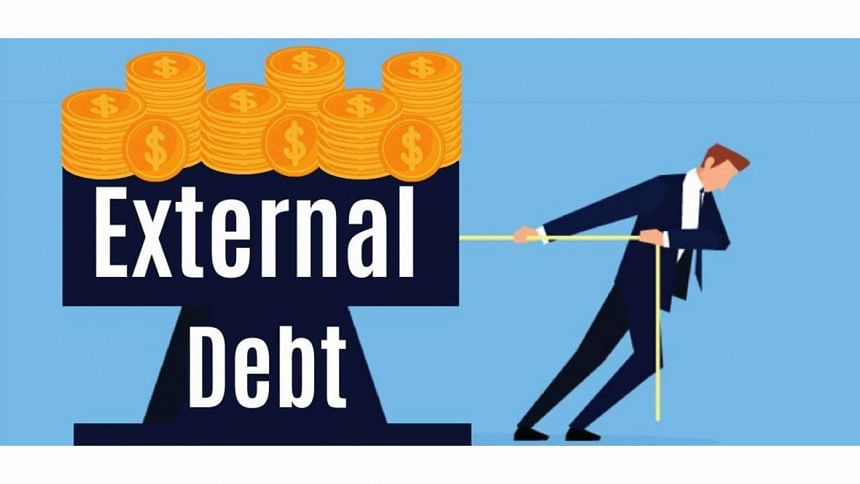 Bangladesh's external debt repayment obligation will double in the next three years, according to data of the Economic Relations Division (ERD).
The country repaid over $2 billion in external debt in 2021-22 fiscal year and the amount is projected to double and cross the $4 billion-mark in 2024-25 fiscal year.
The ERD, however, said the external debt has been rising in absolute terms, but it has been declining as percentage of the gross domestic product (GDP).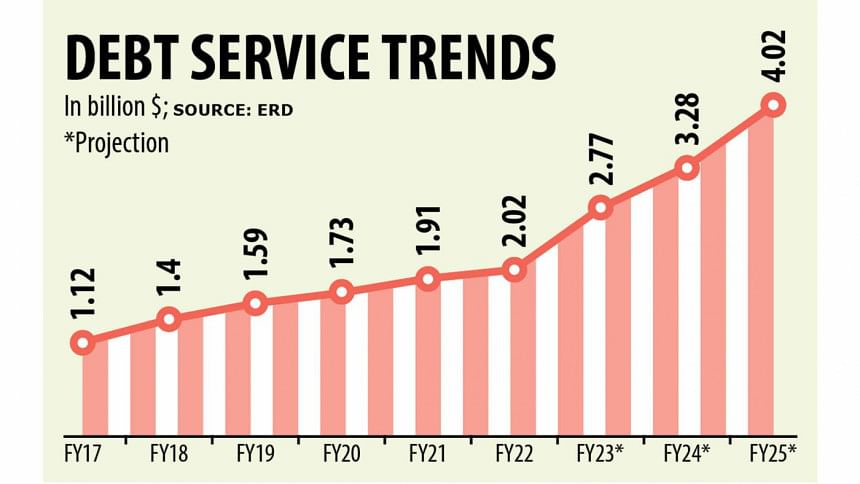 According to the ERD's debt sustainability analysis, Bangladesh's total debt stood at 12.94 per cent of the GDP in 2020-21 fiscal year, down from 13.36 per cent in FY20 and 14.71 per cent in FY19.
FY21's debt amount is still much lower than the threshold of 40 per cent of the GDP.
On the declining external debt, ERD Additional Secretary Abdul Baki said: "Our external debt is sustainable in the short- and medium-term horizon."
He spoke while sharing a presentation on the "Negotiation strategies of development financing" at a meeting organised by the ERD at Sher-e-Bangla Nagar in the capital yesterday.
"The disbursement of project aid needs to be speeded up to contain the cost of borrowing and ensure the desired impact of a project. The disbursement ratio should be at least 25 per cent of the total external debt stock," Baki said.
The disbursement ratio stood at 20.84 per cent in 2021-22 fiscal year, according to ERD data.
The ERD officials also said the government should be cautious while choosing the loan currency and payment currency.
As of June 30, the biggest part—41 per cent—of Bangladesh's debt outstanding by currency was in special drawing right or SDR, which is an international reserve asset created by the International Monetary Fund, according to ERD data.
Around 32 per cent of the debt outstanding was in US dollar, 18 per cent in Japanese yen, 3 per cent in Euro and 6 per cent in other currencies.
Currently, the country's outstanding external debt stands at $56.66 billion, 76.95 per cent of which is in fixed rate and 23.05 per cent floating.
About the foreign loans, Planning Minister MA Mannan said: Bangladesh is gradually gaining capacity to handle foreign loans and the amount of the country's soft loans has been decreasing with time.
"Bangladesh had developed a lot since 1972 where foreign loans played a key role. There is nothing to be feared about foreign loans. There is no alternative to taking loans from external sources for the development of a country."
"But we have to be cautious in case of any foreign loan to make sure that it is used properly," he said.
At the event, State Minister for Planning Shamsul Alam said the government had disbursed $10 billion of foreign loans as of June this year and has over $48 billion loans in the pipeline.
Cabinet Secretary Khandker Anwarul Islam, ERD Secretary Sharifa Khan and Planning Secretary Md Mamun-Al-Rashid also spoke.