Workers still fear dismissal; security heightened in Ashulia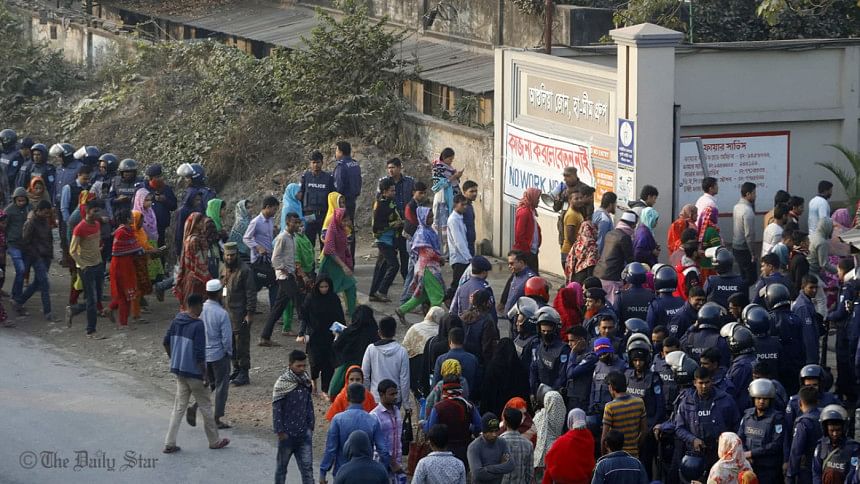 Amid deployment of a large number of law enforcers following eight days of unrest in the RMG sector, workers, in larger numbers than yesterday, were seen filing into work in Ashulia.
The number of workers returning to work today was significantly higher than that of yesterday, reports our Savar correspondent.
Members of law enforcing agencies were seen at different point of Ashulia, on the outskirts of the capital, in the morning.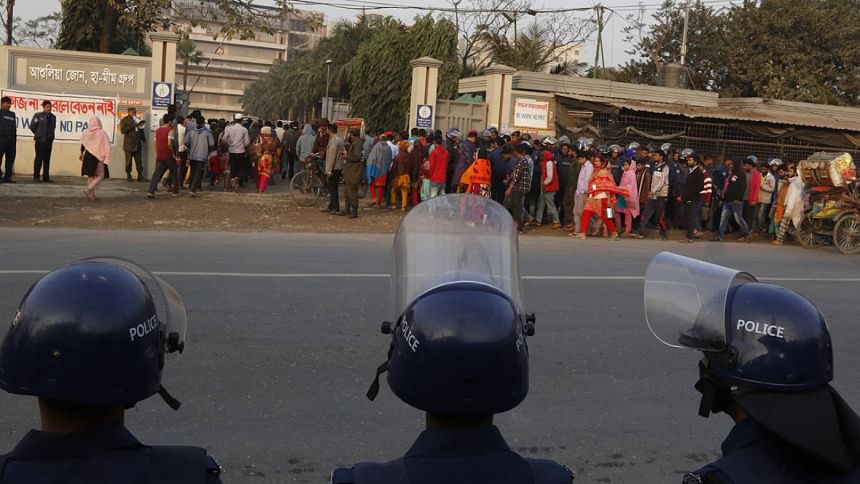 Despite a large number of them showing up at work today, there was still fear of reprisal amongst many of them, the correspondent said.
A total of 287 RMG workers of Metro Knitting and Dyeing Mills Ltd Factory 2 were dismissed yesterday, Atiqul Islam, general manager (corporate) of the factory, told the correspondent today.
The workers were given wages of 45 days before their dismissal, Atiqul said.
They were dismissed on the condition that the cases filed against them over the recent RMG workers' agitation would be withdrawn, said Al Kamran, a workers' leader of Shadhin Bangla Garments Worker Employee Federation.
However, the cases were not withdrawn till last night, the correspondent confirmed.
The worker leaders have disapproved of this dismissal and one of the leaders wishing anonymity said "it would be better to terminate the workers, because in that case they will get two months wages. But dismissal and suspension are very harmful for the workers."
WHAT WERE THE WORKERS DEMANDING?
The workers alleged that the monthly wage in the seventh grade increased to Tk 8,000 from Tk 5,300 as per the latest gazette published by the government last year. But, the salary of the workers in other grades did not increase at the same rate.
The salary hike for the entry-level workers was more than that of their senior operators, who have been working for more than seven to eight years. The new wage has been effective from December 1. Major disparity in the salary hike was noticed in the third and fourth grades as their salaries were not raised like that of entry-level workers.
In most of the grades, other than the seventh, only Tk 500 was raised in the new salary structure, whereas an entry-level worker's salary had increased by Tk 2,700 at one go.
THE LATEST POLICY DEVELOPMENT
After nearly one and half months of protests, the government has revised the pay structure for the garments industry workers giving a raise between Tk 15 to Tk 786.
This revision was the raise from the new wage board put into effect from December 2018.
Meanwhile, apparel industry workers had threatened the workers to shut down the factories if they do not return to work from Monday.