Footwear market expands fast as demand rises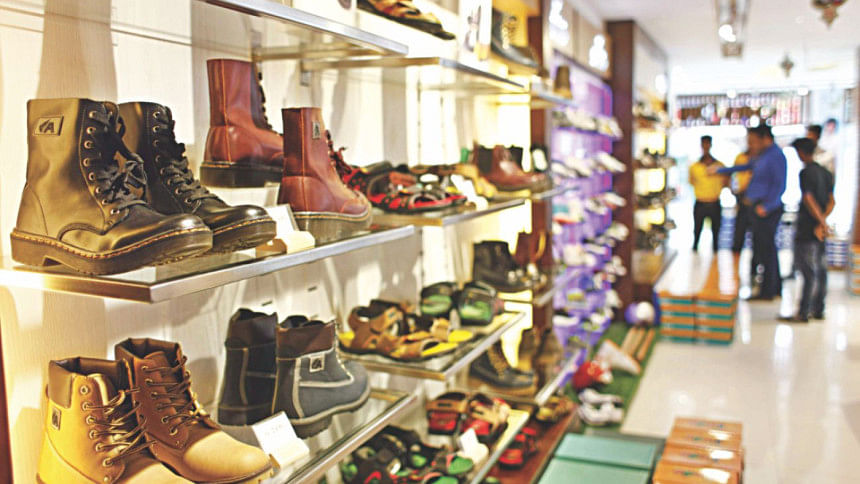 Footwear market is expanding fast riding on the growing demand from a fashion forward middle class.
The increasing purchasing capacity and a rising population are also buoying demand for footwear and encouraging brands to rev up efforts to grab a hold of the market, said industry insiders.
"The per capita usage of footwear is rising. There is hardly anyone now who does not own a pair of shoes," said Md Ruhul Amin Molla, chief executive of Orion Footwear, a concern of one of the biggest conglomerates Orion Group.
Orion entered the local footwear market two years ago to bank on this growing market that is dominated by small retail outlets across the country.
He said the per capita consumption of footwear, including leather, is 3-pairs, which was 1.7-pairs five years back.
Molla said the local footwear market that was worth Tk 16,000 crore in 2016 is growing 10-15 percent a year. Some other players said the market size stands at around Tk 7,000 crore to Tk 8,000 crore.
The country consumes 30 crore pairs of footwear annually, he added.
"This is a huge sector that is dominated by the informal market," he said, adding that the brands are expanding their foothold in the domestic market.
The organised sector began to secure a growing market share after some export oriented footwear companies started opening outlets a decade ago, said operators.
Earlier, Bata Bangladesh was the lone chain retailer.
After the entry of Apex in 2006, others such as Bay, Jennys, Zeil's, Leatherex, and Lotto also approached to win the hearts of consumers.
The entry of new players, coupled with marketing campaigns, steady growth of the economy and political stability in the last two years boosted the local footwear market, said industry insiders.
It also helps that the brands are offering a wide array of designs, and better quality products at fixed prices, they added.
"There is scope to grow in this market. It is an untapped market in a developing country," said Rajan Pillai, chief operating officer of Apex Footwear Ltd, a leading footwear marketer. He said it is difficult to get established in markets like Europe.
"But in a country that is emerging and untapped, if you have the right vision and goals, you will become established."
Fifteen to twenty years from now, the market will be dominated by chain retail outlets, said Pillai. Apex currently has 224 stores; the number will rise to 250 before the upcoming Eid festivities, said said Zoheb Ahmed, head of marketing at Apex.
Razib Jahan Ferdous, senior manager of customer service and loyalty programme of Bata Bangladesh, said the entry of new firms and expansion of retail outlets will help the market grow further. Consumers prefer to shop for trendy footwear in comfortable environments, which the brands can better cater to, he added.
The multinational began its journey by opening its first retail store at Sadarghat in Dhaka in 1962. It now has 240 stores and over 500 dealers throughout the country.
There is potential for footwear exports as well for competitive labour costs, availability of raw materials and Bangladesh's reputation in terms of quality and delivery, said industry operators.
Leather and footwear is the second biggest export earner after apparel, fetching more than $1 billion thanks to increasing shipments, according to Export Promotion Bureau.
Today, around 220 tanneries, 2,500 footwear making units and 90 large firms make footwear and leather goods mainly for export, according to Leathergoods and Footwear Manufacturers and Exporters Association of Bangladesh.