Export growth brings sunshine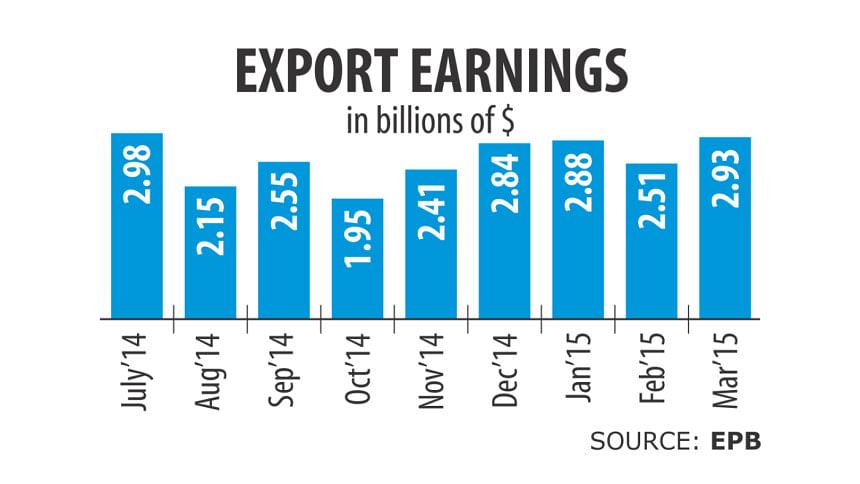 Exports rose 7.43 percent year-on-year to $2.93 billion in March, a development which has brought a ray of sunshine amid the gloomy economic prospects.
The figure takes the total export earnings so far in fiscal 2014-15 to $23.24 billion, up 2.98 percent year-on-year, according to data from the central bank.
"Our exports could have grown more as we have a lot of work orders from international retailers. But the political unrest has been getting in our way," said Atiqul Islam, president of Bangladesh Garment Manufacturers and Exporters Association.
Garment products account for more than 80 percent of the country's total export basket.
The impact of the current stretch of political unrest would manifest in the export earnings three or four months later, as garment makers bagged fewer than normal orders from retailers between January and March.
"We were supposed to grow by 14 percent per month, but 7.43 percent growth is not adequate to achieve the target," Islam said.
The garment exporters though did not face any major difficulties in transporting consignments to the Chittagong port, as the Dhaka-Chittagong highway was free from any major untoward incident, he added.
The other reason for the uptick in exports is the pick-up in apparel orders from the US in recent months.
After the long downward trend, garment exports to the US have started showing positive movement from March.
In the January-February period garment exports to the US registered 2.82 percent growth from the previous year to $881 million, according to data from the US Department of Commerce.
After the Rana Plaza building collapse in April 2013, garment exports to the US dropped as retailers were waited for signs of progress in workplace safety.
But the retailers have been coming back with a handful of orders after the Accord and Alliance in September last year said more than 98 percent of the country's garment factories are safe, Islam said.
Both Accord and Alliance have completed inspections of more than 1,700 factories across the country and are now monitoring the implementation of the corrective action plans suggested by the inspection engineers.