European investors keen on Bangladesh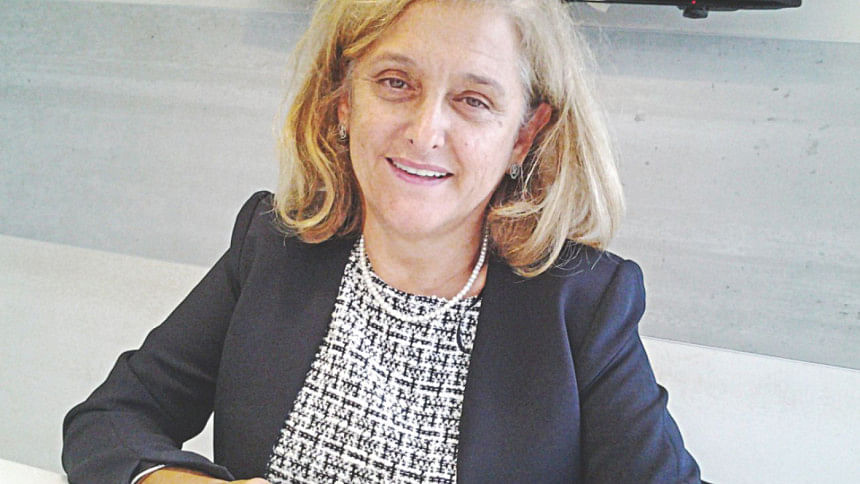 Many European companies and individuals want to invest in Bangladesh in a bigger way as they deem the country to be a good option, said a foreign investor in the country.
"It is because of a sizeable ready-to-work labour force of the country and its fast growing economy," Nuria Lopez, managing director of Zalo Knitting and Arrow Sports Wear, told The Daily Star in an interview recently.
But, unfortunately, foreign investors face a lot of hurdles in setting up their businesses in Bangladesh due to a complicated company registration process, energy crisis, bureaucratic tangles and higher tax structures.
For instance, in the absence of a one-stop service a foreign investor has to collect nearly 25 permissions from different government agencies and departments for starting a business, said Lopez, who has been doing business in Bangladesh for more than 24 years now.
Bangladesh is still languishing in the lower rungs of the World Bank's ease of doing business index: out of 190 countries, it came in at 177 in the latest edition -- only higher than Afghanistan in South Asia.
"The reason is that Bangladesh's business climate is still difficult. We have to improve the business climate."
Lopez went on to call for a national single window from where investors can collect all necessary documents without any hassle or harassment.
The Spaniard also touched upon the trade policies of Bangladesh. "The country still follows protectionism -- this is not a good policy for the long run."
Foreign investors want a liberalised trade policy, she said.
The government should also formulate a clear and long-term plan on power and energy as predictability in power and gas reserve is very important to investors for making an investment plan here.
She also said there should not be any discrimination in the tax regime between domestic and foreign investors and should be stability in the tax rates for at least 10 years. Much has changed in the country's garment sector in the 24 years she has been here.
For instance, 24 years ago, international retailers did not want to travel to Gazipur, where the garment factories were mushrooming then.
"But now, Gazipur has become the centre point for garment sourcing companies. This is the way Bangladesh changed over the last 24 years."
On workplace safety in Bangladesh, Lopez said it has improved by leaps and bounds after inspections by the two foreign agencies -- Accord and Alliance.
"The Rana Plaza building collapse has opened our eyes. Now, many companies in the world cannot reach the standard that Bangladesh has reached after the tragic incident."
Although garment shipments from Bangladesh to the EU will keep growing in future, Myanmar and Ethiopia are looking to become strong contenders for the country's throne as the world's second largest apparel supplier, she said.
"They can be good places for garment sourcing in future as both the countries have been giving incentives to attract foreign investment."
Lopez, who is also the president of Spain-Bangladesh Chamber of Commerce and Industry, said potential European investors look for a platform in Bangladesh where they can discuss the challenges they face and seek remedy from the government such that their investment plans can go through.
After years of discussions, the EU's businessmen have decided to form a platform named the EU-Bangladesh Business Chambers' Forum to act as the federation of EU trade bodies and chambers in Bangladesh.
The forum will run in parallel with another platform named the EU-Bangladesh Business Climate Dialogue that was launched three years ago at the government level and has already held three dialogues with the Bangladesh government.
"I hope that we will get a positive nod from the Bangladesh government for the proper functioning of the EU-Bangladesh Business Chambers' Forum," said Lopez, who is set to become the convener of the proposed platform.
The platform will help in attracting more EU investment to Bangladesh, she said.
"Many still think that this country is a very lucrative destination for them."