Tea garden owners claim losses for strike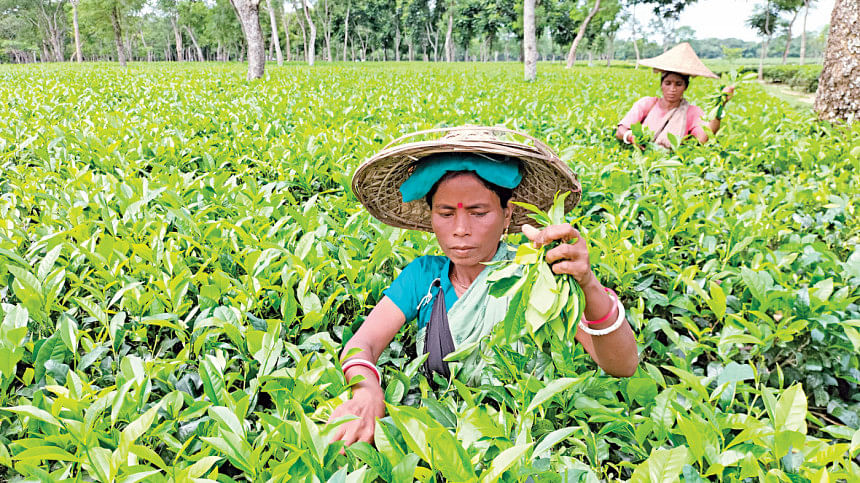 Tea estate owners in Bangladesh yesterday said they suffered losses of up to Tk 20 crore per day during the recent 18-day protest by estate workers as significant amounts of tea were wasted for the work abstention. 
And although they have accepted the prime minister's decision on raising the daily minimum wage of tea workers from Tk 120 to Tk 170, they did not state whether the protesting workers would be paid for the strike's duration.
"We get 15 per cent of our annual production in August but as the plants grew too large for a lack of picking amid the protest, their leaves are now useless," said M Shah Alam, chairman of Bangladesh Tea Association (BTA).
"So, we have to wait for quite some time to resume tea production in the gardens," he added.
Nihad Kabir, a member of the BTA, said one kilogramme of processed tea leaves can be made into approximately 400 cups to 500 cups of tea worth about Tk 10,000 in total.
"But we get only Tk 197 per kilogramme of processed leaves and 45 paisa from each cup of tea while the rest of the money goes to blenders, packers and other players in the supply chain," she said.
Workers' wages have increased 73.91 per cent and the price of other associated products, such as equipment, has gone up by up to 48 per cent while the auction price of tea leaves has risen by only 0.16 per cent.
"In this situation, we will face a lot of challenges in the coming days," Nihad added.
Asked whether tea estate owners will give in to their workers' demand for improved living and working conditions as well as other benefits, BTA Chairman Alam said they already provide a lot of facilities.
"We are the first industry in Bangladesh to introduce paid maternity leave and gender equal wages. We will discuss with union leaders what they still need and what we can afford to provide," he added.
With regard to whether the workers would be paid for the strike period, Alam assured that they would get their wages but could not confirm exactly when.
Alam went on to say that they would face a lot of difficulties in adjusting to the wage hike while recovering from massive losses at the same time.
"So, we asked for bank loans during a meeting with the prime minister, who was very positive about it," he said.
"However, we have to increase our production at any cost or else banks may not be convinced to give us loans in the future."
Tea workers in 241 gardens across the country embarked on a work abstention on August 9, demanding a wage hike from Tk 120 per day to Tk 300 per day.
On August 27, the prime minister met tea garden owners and set the daily wage at Tk 170.
Following the decision, the tea workers immediately called off the strike and returned to work. But without any income, more than 150,000 workers and their families suffered heavily during the prolonged protest.
A leader of the protesters, preferring anonymity, said not only were they deprived of an income for 18 days, but they also could not avail many facilities provided by the tea estate authorities.
"We had to spend all our meagre savings to feed our families during the protest. So, if the authorities give us the 18 days' salary, it would save our lives," said the leader.